BY LINDA BENTLEY | SEPTEMBER 18, 2013
Abujbarah files Notice of Claim against town officials for $3 million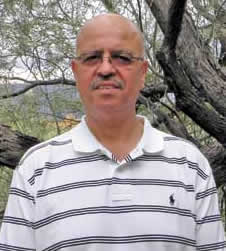 CAVE CREEK – On Wednesday, former Town Manager Usama Abujbarah served the town with a Notice of Claim seeking reinstatement to his position as town manager with restitution of all duties and responsibilities, payment of back pay and restoration of benefits and payment of attorneys' fees and costs to date in the amount of $16,808.

In the alternative, in lieu of reinstatement, Abujbarah is seeking monetary relief as a lump sum payment of $2,963,718.

The Notice was filed against the town of Cave Creek and against Vice Mayor Adam Trenk and councilmen Charles Spitzer, Mike Durkin and Reg Monachino, both individually and in their official capacities.

Although a Notice of Claim is not required to pursue claims for monetary relief stemming from violations of any federally protected right, the Notice references constitutional violations because the rights asserted overlap with Abujbarah's federally protected rights.

The Notice argues Abujbarah's removal was a breach of an implied covenant of good faith and fair dealing.

Trenk's motion required Abujbarah to agree to serve in some undefined role and carry out undefined duties and responsibilities not consistent with the duties as town manager and did so with no evaluation of past performance.

It was also done as a condition of receiving benefits to which Abujbarah was already entitled under his employment agreement and which Attorney Dan Bonnett stated was "a clear breach of contract as well as a breach of the implied covenant of good faith and fair dealing embodied in every written contract."

Additionally, Trenk is accused of publishing false and misleading statements concerning Abujbarah and posting similar defamatory statements about Abujbarah on Trenk's Facebook page.

The Notice also points out the town and individual councilmen, acting under the color of law, deprived Abujbarah of his constitutional rights of free speech, association and to petition the government for redress of grievances.

The Notice of Claim is mandated by Arizona law and must raise all the issues that would be included in a complaint, if filed, including the amount of the claim.