SEPTEMBER 11, 2013
14th Annual Walk for Down Syndrome
Saturday, Sept. 21
Tempe Diablo Stadium, 2200 W. Alameda Drive, Tempe, AZ 85282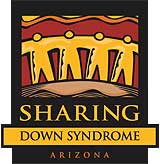 This event is for everyone who wants to show their support and to celebrate those in our communities who have Down syndrome. Most importantly, the Sharing Down Syndrome Walk is to promote positive acceptance and awareness for people with Down syndrome. It is a major fundraiser that allows Sharing Down Syndrome Arizona to continue our family support by providing monthly educational meetings, in English and Spanish, hosting new parent gatherings, and personally delivering new parent support packages. We provide community support by providing birthing hospitals in Arizona folders containing important information regarding Down syndrome and our organization for social workers to give to newly diagnosed parents. We bring awareness to the medical community regarding the importance of properly delivering the diagnosis in a positive manner to the parents. This event is for all ages and abilities and will begin with a light continental breakfast followed by a short stroller friendly walk around the Tempe Diablo baseball field.

Post walk activites will include fun and games with bouncers, rock wall climbing, carnival games, and dancing to the music of DJ Ron, silent auction and much more. Also, meet Dora the Explorer and Sponge Bob. Stop by our exhibitor booths to learn more about the activities, resources, and services available in our community. Please come and join us if you have Down syndrome, if you love someone who does, or if you want to show your support.

Walk For Down Syndrome Agenda
7:30 am – Registration and light Continental Breakfast
9 to 9:30 am – Flag and Awards Ceremony
9:30 am – The Walk Begins
9:45 to 11:30 am – More family fun than you can imagine with carnival style game booths, moon bounces, obstacle course bounces, rock-wall climbing, DJ Ron's music and dancing, silent auction & more. Enjoy yummy treats; ice cream, Jamba Juice, snow cones, cotton candy. Visit our numerous exhibit booths for more information and resources within our community.

Sorry, no pets are allowed on event premise unless it is a service animal. Thank you!