SEPTEMBER 11, 2013
Desert Stages Theatre Presents 'The Diary of Anne Frank' Sat., Sept. 14 – Sun., Oct. 20
Tickets at DesertStages.org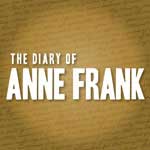 SCOTTSDALE – Desert Stages Theatre presents the riveting production, The Diary of Anne Frank led by National Youth Theatre Award winner Rachel Redleaf, portraying the remarkable Anne Frank, with direction by theatre veteran Timothy Pittman and assistant director, ariZoni Award winner, Virginia Olivieri.

This powerful production takes the intimate Desert Stages Theatre Actor's Café stage Sat., Sept. 14 – Sun., Oct. 20.

Told by 13-year-old Anne, the true story of a Jewish family hiding from the Gestapo in war-torn Amsterdam takes the audience on an emotional and dramatic journey. For two years the Frank family and others lived in a cramped attic fearful of being discovered.

In this powerful drama, the horror of this massive devastation is revealed from a firsthand experience. The emotional story captivates the audience in DST's Actor's Café and its intimate 65-seat theatre delivers a connection to the characters that many larger theatres inevitably fail to achieve.

The directing team comprising Timothy Pittman, a veteran of all things theatre with more than 27 years of experience, and Virginia Olivieri, an ariZoni Award winner, has become an essential duo to Desert Stages Theatre's Actor's Café. Their participation in DST has included a stream of Neil Simon plays as directors as well as members of the cast as well. The talented team switches gears from classic comedy to a much more serious and emotional production in this turn.

Working with cast members inspired by the true story of Fred Greenwood whose own experience mirrors that of Anne Frank in World War II Amsterdam, Pittman and Olivieri's direction promises to produce a rare version of this decades-old stage drama based on Frank's story. Greenwood, an extraordinary man whose life mirrored that of Anne Frank, spoke to cast and crew about his early teens when he was forced to move to 14 different homes in two years, hidden by different families throughout Holland. As a result, Desert Stages Theatre's The Diary of Anne Frank promises to not only be inspired by the story of Anne Frank but Mr. Greenwood as well.

History
Anne Frank is one of the most well-known Jewish victims of the Holocaust and her diary, written while in hiding from 1942-1944, gained international fame. Anne Frank's The Diary of a Young Girl, was first published in 1947 and was later translated into more than 60 languages. The Diary of a Young Girl is often listed as one of top books of the 20th Century. The Diary of Anne Frank, by playwrights Frances Goodrich and Albert Hackett, premiered on Broadway in 1955, earning a Pulitzer Prize and the Tony Award for Best Play, among several other prestigious awards. In 1997, The Diary of Anne Frank was revived with adaption by Wendy Kesselman, earned rave reviews and featured Natalie Portman as Anne Frank.

Tickets Online & by Phone
Tickets are available at www.DesertStages.org; or by phone, 480-0483-1664, and also at the theatre box office, 4720 N. Scottsdale Road, north side of Scottsdale Fashion Square, next to the former Coco's restaurant. Tickets are $25 for adults and $22 for seniors and students.