BY LINDA BENTLEY | SEPTEMBER 4, 2013
Mary Rose Wilcox is at it again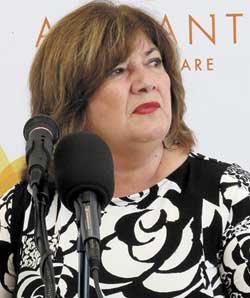 PHOENIX – On Aug. 28, Maricopa County Supervisor Mary Rose Wilcox had Richard de Uriarte, communications manager for the Maricopa County Board of Supervisors, send out a press release on her official Maricopa County letterhead and use a county e-mail list to call for an activists' protest on behalf of the Black/Brown Coalition, of which Wilcox is a co-chair, to demand a federal judge appoint a court monitor to oversee the daily operation of the Maricopa County Sheriff's Office.

The press release called for a press conference to take place at El Portal Restaurant, which is owned by Wilcox, that same afternoon.

The press release stated details of the community mobilization action to take place on Friday, Aug. 30 would be announced at the press conference.

Wilcox stated, "We are demanding that Federal Court Judge Murray Snow appoint a Court Monitor to oversee the daily operation of the MCSO who have been found guilty of racial profiling. We will mobilize our community to support Judge Snow's ruling to stop the civil rights abuses perpetrated by Sheriff Arpaio against the Latino community."

This is not the first time Wilcox has used her office to further her race-based personal political agenda.

Sonoran News reported back in June 2012 that Wilcox had de Uriarte send out a letter from the Black/Brown coalition demanding Tucson Unified School District reinstate its Raza Studies program using the county's e-mail list.

Although the Black/Brown Coalition claims its mission is "to improve the quality of life for all people of color, speaking with one united and collaborative voice to achieve social justice and to advocate respect for human and civil rights, thereby benefiting the Arizona community as a whole," the Raza (Race) Studies program was eliminated after it was found to be in violation of HB 2281.

HB 2281 prohibits courses and classes that "1. promote the overthrow of the United States government; 2. promote resentment toward a race or class of people; 3. are designed primarily for pupils of a particular ethnic group; and 4. advocate ethnic solidarity instead of the treatment of pupils as individuals."

TUSD was found to be in violation of sections 2-4.

During construction of the now completed downtown court tower, Paul Frankowski, who worked for a mechanical contractor on the project, said Wilcox would stop work on the project to call a press conference to announce to all the workers how well they were doing, how the project was on budget and what a great safety record they had.

Frankowski said Wilcox then proceeded to tell the workers they needed to eat at her Mexican restaurant, just across the railroad tracks south of the building.

He said he was "floored" that she would promote her personal business during a county function.

What about de Uriarte? His resume states he has taught media ethics and diversity issues at the Walter Cronkite School of Journalism.

It would appear Wilcox is using county stationary, e-mail lists and other resources to promote a race-based personal agenda.