BY LINDA BENTLEY | JUNE 12, 2013
A matter of trust or an agenda?
'They depicted Glassman as a spoiled rich kid with a frat boy sense of humor'

CAVE CREEK – Trust was the mantra chanted over and over again by newly elected council members and vendetta-driven citizens during Monday night's meeting as Vice Mayor Adam Trenk and councilmen Mike Durkin, Reg Monachino and Charles Spitzer, after 7 days in office, voted to oust Town Manager Usama Abujbarah from his job of 17 years.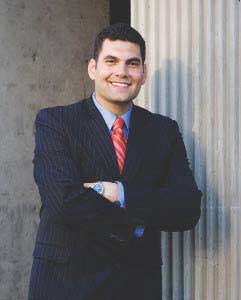 As part of his motion, not only did Trenk improperly call for another special session of the town council, which, according to the town code, must be called either by the mayor or in writing by four members of council, he also announced the suggested hiring of Rodney Glassman (l) to serve as acting town manager.

Glassman is a 35-year old progressive Democrat from Tucson, who was a legislative aide for U.S. Rep. Raul Grijalva (D) and in 2010, when he ran as the Democrat candidate against Sen. John McCain, said, if elected, he would model his service after Grijalva, who called for a nationwide economic boycott of Arizona in protest of SB 1070.

If openness, honesty and trust are what Cave Creek is seeking, Glassman has some steep hurdles to overcome.

Glassman attempted to get the city of Tucson in 2000 to buy his faltering family-owned Gateway Ice Center at a price not to exceed $8 million with projected losses estimated to run approximately $500,000 over a three-year period. The city declined.

The ice skating rink, which was run by Glassman, who played hockey for U of A's Icecats while attending the University of Arizona, was built in 1995 by Glassman's father, a successful agribusinessman from Fresno.

Glassman was elected to a four-year Tucson City Council term for Ward 2 in 2007 but resigned in April 2010 so he could run for the U.S. Senate.

Speaking of U of A, Glassman apparently plagiarized several passages of his 246-page dissertation on arid land resources sciences for his Ph.D. in 2005.

Initially exposed in a progressive blog while he was running for the U.S. Senate in 2010 and later confirmed by the Arizona Daily Star, were sections lifted from a July 1999 research summary by the Western Region Coordinating Committee for Agricultural Literacy, a 1988 research paper titled "Understanding Agriculture: New Directions for Education" and other sources dated 2001, all without quotes or attribution and predating his 2005 dissertation.

So, there's proof at least some of Glassman's credentials were obtained by cheating.

Glassman is endorsed by Phoenix City Councilman Sal DiCiccio, who told Sonoran News on Tuesday the reason for his endorsement is because "[Glassman] has been pushing privatization of government. I worked with him and he took the time to meet with some of our leaders in Gilbert to help them privatize their trash collection. That is how I know him and he pushed that as hard as I have seen anyone else push a privatization agenda."

The same guy who tried to get the city of Tucson to buy his beleaguered skating rink was later pushing to privatize trash service.

Glassman was employed by Waste Management at the time, although that career didn't last long – just over a year and our sources claim he was fired.

Even Stephen Lemons of the left-wing Phoenix New Times took Glassman to task over his treatment of key staff members, all of whom Lemons said he was told left because Glassman was "out of control in the worst possible way" and "he was needlessly rude to staffers and volunteers alike, and described him throwing temper tantrums and yelling at stunned campaign workers."

Lemons wrote, "They depicted Glassman as a spoiled rich kid with a frat boy sense of humor."

Further, Glassman told Democrat supporters if he were unable to raise millions of dollars in donations for his Senatorial ambitions, he or his family would donate the money to his campaign.

At the time, "Jenn" wrote on BlogForArizona.com, a Democrat blog, "Beyond the uneasiness that I have in thinking about Glassman or his family openly publicizing their intention to purchase a Democratic nomination with their collective wealth, it turns out that Glassman actually reneged on that promise to early supporters. To date, Glassman has only loaned his campaign $500,000 of his personal funds, and is reportedly already seeking ways to have that money reimbursed to him (apparently, he considered cutting staff jobs in order to repay his loan)."

During a fundraiser in 2007, when running for council, Glassman is said to have responded to the question, "What is the toughest thing you will face as a Tucson City Council member?" by saying, "The toughest thing for me to do will be to sit next to an openly gay council member," referring to Councilwoman Karen Ulich.

Councilman Mike Durkin, in voting to oust Abujbarah, claimed he did his due diligence.

Did anyone perform any due diligence regarding Trenk's selection of Glassman? If so, is this really the kind of person they want to replace Abujbarah with on even a temporary basis? If so, why?

Hopefully these questions will be answered during tonight's special meeting and perhaps the currently unemployed Glassman will be passed over until a qualified candidate can be found.