BY LINDA BENTLEY | JUNE 12, 2013
Carefree picks newest council member for vice mayor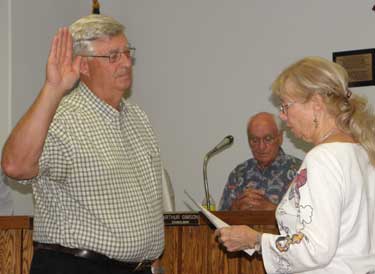 CAREFREE – With councilmen Mike Farrar and Marty Saltzman absent, after Town Clerk Betsy Wise administered the oath of office to the mayor and council, Mayor David Schwan's motion to elect the newest Councilman Les Peterson (l) as vice mayor carried unanimously.

Without any comments from the public, council unanimously adopted the $6.6 million 2013-2014 Fiscal Year Budget.

During the town's water company meeting, the board of directors unanimously appointed Schwan as president, Peterson as vice president and Town Clerk Kandace French as secretary/treasurer.

As Cave Creek did recently, the Carefree water board unanimously passed a resolution directing the manager of the water company to apply for up to 150 acre feet of water from the 2013 Reallocation of Non-Indian Agricultural Water.

The allocation is being sought in an effort to reduce the amount of groundwater being drawn by Carefree in the future.

The board also unanimously adopted its Fiscal Year 2013-2014 Fiscal Year Budget that included a water rate increase of 2 percent, effective July 1.

The increase will be reflected in the bills customers receive at the beginning of August.

It was pointed out that state sales tax has decreased by 1 percent, making the increase nominal.

Between the water rate increase and sales tax decrease, the average customer using 12,000 gallons per month will see less than a $1 increase in his monthly bill.

Schwan presented retiring Town Clerk Betsy Wise with a plaque to honor her service to Carefree and the community.

Council unanimously approved the appointment of Tom Cross, Lyn Hitchon, Michael Krahe, Al Mascha, Scott Sperl, Dick Tatlow and Dan Wainwright to serve on the planning and zoning commission through November 2016.

Council unanimously approved an intergovernmental agreement with Maricopa County for animal control services, road closures for three upcoming Thunderbird Art Festivals and, following an executive session, approved paying a demand for legal fees associated with a case dismissed in Carefree Municipal Court.