My View
BY DON SORCHYCH | JUNE 12, 2013
A disgusting event
Years ago there was a slate, and then like now, Sonoran News was the target of the dark side of politics. Back then the now defunct Mine Shaft was the meeting place of these dissidents. Now the meeting place seems to be the Grotto. Readers have advised us that George Ross has met with Mike Chutz several times and Carefree's Hugh Stevens at least once. And we got that information without the use of a private eye, which slate supporters have unleashed on Cave Creek.

The subject of town complaints received much discussion in the past. The choice often explained was whether the public wanted a complaint driven system or town code violation officer that would seek town residents' and businesses' compliance with ordinances. The idea of a town "inspector" poking around in their back yards was repugnant to citizens so a complaint driven system, which has to be signed by the complainant, was adopted.

So if the PI who is bugging the town had any knowledge of the town's history he wouldn't be asking about Cartwright's, El Encanto, and more recently the Buffalo Chip. Interestingly, the Buffalo Chip wasn't added until Chip owner Larry Wendt spoke passionately in favor of Town Manager Usama Abujbarah in the June 3 council meeting.

Let's face it, many, if not all of the town businesses may violate ordinances to be current and improve their facilities, but without a signed complaint the town is handcuffed. Good compromise, I think. After all, restaurants are audited extensively by county inspectors.

Obviously, the PI William Loughrige, is fishing for anything to use in eliminating Usama from his town manager role. Although the slate argues for transparency, the slate financial supporters don't nor does the slate. Why would the PI be so curious about a town truck visiting my property and what the electric issue was all about? This is really trivial stuff.

But I suspect the PI will drop off now that whoever hired him got his wish since the council fired the town manager Monday night.

In a 4-3 vote, council voted to fire Usama Abujbarah but the effort was lead by Adam Trenk, the Trenkster.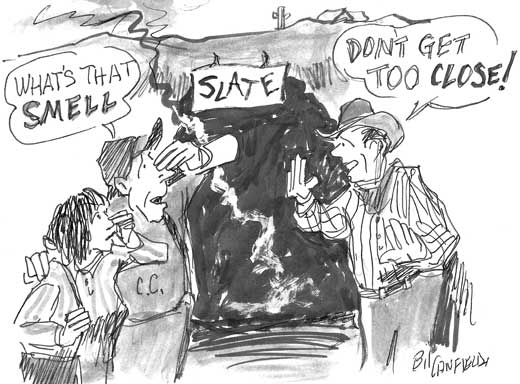 Trenkster mentioned a weekend meeting with Abujbarah where the two agreed they didn't trust each other. Trenkster said he couldn't work with someone who didn't trust him.

The meeting was set up at El Encanto last Sunday by a third party who attempted to find common ground with Abujbarah.

During the meeting, Trenkster bragged he was the swing vote because the other three slate members would vote against Abujbarah while Mayor Vincent Francia and Councilmen Ernie Bunch and Thomas McGuire would vote to retain him. Although it is obvious the three would vote to keep Abujbarah, (and they did) how did Trenkster know the slate three would vote to remove the town Manager? Although Trenkster has served a previous term he must not remember open meetings law which means such matters need to be discussed in public and council members can't discuss such issues with each other. Sounds like a serious open meeting violation.

The whole meeting was reckless and no doubt will activate a law suit.

Why was the regular town attorney not there? Fredda Bisman was there along with another Mariscal Weeks attorney who specializes in employment affairs. Bisman should have seen the issues discussed were not agendized and therefore not eligible for a vote. I believe attorney Marlene Pontrelli would have prevented the legal suicide committed by know nothing slate members and that includes Trenkster.

Trenkster acted the part of the mayor last night and he clearly is Vice Mayor only due to the majority represented by the slate.

Mayor Vincent Francia was huckstered by Trenkster and Reg Monachino. Trenkster had told Francia that he only wanted to "rein in the town manager" not replace him. Monachino told the mayor not once but twice, emphatically, he would not vote to remove Abujbarah. They both lied. So what is new?

Monachino sat in last night's meeting like a mummy and contributed nothing. He told a friend that he only knows how to throw bombs, an interesting personal opinion of himself. Conservative readers who told me they favored Monachino because he is conservative had better get a lie detector.

Last night proves what a slate does. And I am sure their masters have celebrated their success. I wonder how it feels to be enslaved by people like Mike Chutz, Gerald Freeman, Bob Moore, George Ross, Countrywide graduate and retiree Ralph Mozilo and whoever else joins their vendetta?

Make sure you read Linda Bentley's article about the supposed new town manager. He has quite a record and ran on the Democrat ticket against John McCain. Remember too, McCain endorsed Trenkster for the council. Politics has no morality, none.

Lately, the slate has swung from their claimed conservatism against Abujbarah's liberalism. The guy chosen by Trenkster is so far left he could fall in the ocean. I hear he is endorsed by Phoenix Councilman Sal DiCiccio, also a supposed conservative. Could that be because Grace Meeth and DiCiccio are buddies? Did she convince him she too is a conservative, this woman who tried her best to prevent any freedom at all to Cave Creek homeowners?

Here is what DiCiccio wrote in response to Linda Bentley's request about why DiCiccio endorsed Rodney Glassman as the interim town manager:

"Linda he has been pushing privatization of government. I worked with him and he took the time to meet with some of our leaders in Gilbert to help them privatize their trash collection. That is how I know him and he pushed that as hard as I have seen anyone else push a privatization agenda. My understanding is that is for only 6 months and he was asked to help with the business side of the town"

BINGO! The truth is out that Chutz plans to privatize garbage collection and what does he do for a living, he is basically a garbage man. Next would be the water company and the sewer plant with Chutz's pals getting the spoils. Now we will see whether the slate truly believes in keeping Cave Creek Cave Creek or they are subjects of Chutz.

Abujbarah has served the town with record results and deserves way more than a kick in the face by the likes of the slate. The slate are ravenous predators that show no remorse or reasons to do more than congratulate him and move on. I estimate that perhaps 25 percent of the audience where they did the hanging at Monday's meeting clapped and cheered the hanging. It got that way by people who were unable to get the town to do their bidding so they got on the phone and urged people to show up with supposed dirt on Abujbarah. More on that later.

Abujbarah's battle is yet to be fought in court and I think it will. His lawyer identified many holes in their planless plan. Please remember, ability to recall these yokels is only six months away. Plenty of time to plan and fund recall elections against slate members. I think Trenkster's followers and he will have major screw ups and although recalls don't need reasons, they always help.

But the slate's plan is to have gutted the town of assets in six months making recall irrelevant!