BY LINDA BENTLEY | APRIL 24, 2013
Budget workshop nearly ends in brawl
"As a citizen, I find all these art fairs and events every weekend annoying … My idea is totally at odds with what you want to do."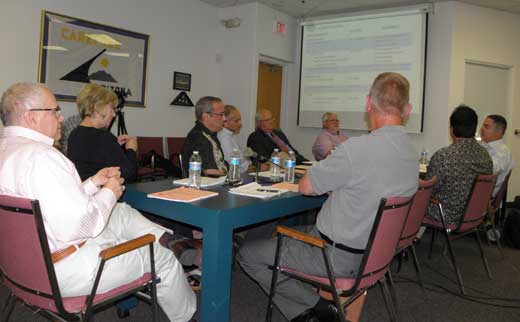 Most of the discussion during Carefree's budget workshop on April 16 evolved around the $850,000 capital projects, especially a splash pad for the town center.
Photo by Linda Bentley


CAREFREE – The April 16 Budget workshop began with Town Administrator Gary Neiss presenting an outline of the budget.

Neiss stated the town was anticipating using $750,000 from reserves as a worst-case scenario.

He said the proposed $850,000 in capital projects were to "attract businesses and diversify the demographics of people we attract to Carefree."

The $850,000 would be for a Veterans Memorial, which was being proposed as a self-funded project through the sale of naming rights on pavers, a splash pad and sundial fountain, plus shade sails for the amphitheater.

Funding would be through corporate partners, individual donations, possible Indian grants and the town's general fund.

Mayor David Schwan had Neiss explain how a municipal budget differs from a corporate budget whereas if expenditures are not budgeted that money cannot be spent.

Councilman John Crane questioned if approving the budget meant approving all the projects.

Neiss said it did not and that any expenditure over $15,000 must still come to council for approval.

He also said the town had budgeted for future expansion of the Sundial building to accommodate council chambers and the court.

He said the funding would be possible through court enhancement fees and water company payments to the town for a fire hydrants loan.

The town currently leases the space for court and the council chambers at $4,100 per month, which he said was the equivalent to a $1.3 to $1.5 million mortgage.

Because the lease is for five years at a time, Neiss said the town may want to begin looking into expansion of the Sundial building now so the project could be completed before the lease comes up for renewal again.

However, Vice Mayor Melissa Price later noted the town spends $350,000 per year for the court, which only brings in $95,000 and said the town might be better off looking into an IGA with other courts in Maricopa County.

She said, "I have a tough time thinking we can't do better with an IGA."

The mayor said after the new Cave Creek Council is seated the town could perhaps discuss court consolidation again.

Matt Owens from Owens Harkey Advertising gave council a brief update on its progress during its first year and its strategy for moving forward.

He said they were shifting away from banner ads to social media and pointed out Facebook was made up mostly of the 35-plus crowd.

Owens said they would do what they could within whatever budget the town gives them.

Schwan explained while there were two fewer restaurants and fewer businesses in town, sales tax revenue remained flat. Meaning the businesses in town were doing better.

However, when discussing coupons and other business-promoting programs, Schwan said the town needed to be careful how it does it so as not to be "gifting" anything.

Councilman Marty Salzman stated when there are events in town on weekends many of the businesses are closed.

Councilman Mike Farrar raised concerns about high expenditure items such as the splash pad and questioned whether it will draw what the town wants.

He said he would support hiring an independent consultant and suggested adding $5,000 to the budget for an organization such as the Urban Land Institute to conduct a study.

He also noted there was no demand for using the amphitheater now and didn't believe adding shade structures would increase that demand.

Price did not agree with the two merit increases in the budget until the town restructured its staff.

She suggested hiring a part-time public relations person.

Schwan argued if the town were to hire another person it should be in the public works department, which only has four employees.

Price asked how long they needed to wait before the town could do that.

Schwan responded, "Until we have a steady increase in our tax revenue stream."

Neiss said the town did restructure by reducing staff by 25 percent. There are currently 14 employees.

Price moved to remove the 2 percent cost of living increases from the $16,000 budgeted for that along with two merit increases, which would be offset by $14,000 in savings by Town Clerk Besty Wise's retirement and the hiring of a new town clerk.

Her motion failed by a vote of 2-4, with Farrar joining Price with his vote and Councilman Arthur Gimson absent.

During public comment, Suzanne Nyberg said she took issue with the $850,000 capital projects, especially the splash pad. She said, "As a citizen, I find all these art fairs and events every weekend annoying … My idea is totally at odds with what you want to do."

Others commented in opposition to the capital expenditures.

The mayor told citizens they had free fire protection service provided to them by the town and without the additional revenue from the weekend events, they would have to go back to subscription service, but it would no longer be voluntary.

Nyberg said she and her husband would be willing to do that in exchange for not having all the weekend events.

One resident commented about the high number of empty buildings in town and said she didn't know if a splash pad for that kind of money was going to draw the kind of people they think it will.

She did agree the study was a good idea.

John Traynor said he was pleased to see public comment this year and stated he was opposed to some of the projects. He called the splash pad and other capital projects "ill conceived."

The mayor stated there was public comment last year as well.

Traynor claimed the workshop went on so long they never got a chance to be heard.

Former Councilman Jim Van Allen said he agreed with having a consultant come in and did not support the splash pad. He also said he had concerns about taking money out of reserves.

Another citizen said what was annoying about the splash pad was that the town didn't discuss it with the citizens.

As Schwan was closing the meeting, Traynor began to gather his belongings to leave. Councilman Glen Miller's wife Michelle walked past his seat, leaned over and said something Traynor interpreted as rude but was unable to hear her entire insult. As she reached the door she threw her water bottle at the trash pail, as if to punctuate her comment. She missed and had to stop to pick up the bottle. When Traynor got to the door he asked her what she said, adding, "I'm just about deaf and did not hear you."

In response, she hit the crash-bar on the door and blew past Traynor, yelling, "You heard me!" Traynor said he didn't hear and just walked out in the other direction to the building exit.

Schwan and other council members restrained Miller who jumped up and started after Traynor, yelling, "That's my wife!"

Schwan said the budget will be coming back to council to adopt the bottom line during the May 7 council meeting with formal adoption of the budget in June.