BY LINDA BENTLEY | APRIL 17, 2013
Election focus is much ado about debt
First off, the water utility's debt service, operations and maintenance is completely funded by water revenues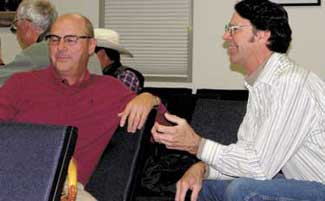 Mike Chutz (l), a Sewickley, Penn. resident and David Phelps, chair and treasurer, respectively, of the Political Action Committee CaveCreekElection2013.com are backing a slate of candidates to replace town council using the town's debt as a fear mongering platform.
Photo by Linda Bentley


CAVE CREEK – The Political Action Committee (PAC) CaveCreekElection2013.com has used the town's debt for the wastewater treatment plant and purchase of the water company to scare voters into replacing the current town council with people who were never involved at any of the numerous public hearings on these matters.

The PAC is chaired by Sewickley, Penn. resident Mike Chutz, who is not registered to vote in Arizona, and David Phelps as treasurer.

On Sept. 10, 2002, Cave Creek voters overwhelming approved (by 63 percent) a ballot question asking, "Shall the town of Cave Creek be authorized pursuant to A.R.S. §9-5147 to acquire the assets of the Cave Creek Water Company and such other property as may be necessary to engage in the water utility business both inside and outside the town limits?"

In early 2005, Cave Creek Water Company owner J. George negotiated a sale with Global Water Resources, LLC, which closed on March 3, 2005 with Global purchasing all outstanding shares of stock for an undisclosed amount.

In May 2005, after town council voted to acquire Cave Creek Water Company using eminent domain (condemnation) proceedings, Phelps, Cave Creek Water Company and Pacer Equities, the water company's treatment plant, filed a complaint in Maricopa County Superior Court against the town and Town Clerk Carrie Dyrek after Dyrek refused to accept or process Phelp's referendum petitions on council's decision.

The court agreed with the town that council's action was a non-referable administrative act, carrying out the will of the voters as per the outcome of the Sept. 10, 2002 election.

Meanwhile, Trevor Hill, president and CEO of Global Water, had omitted his Canadian past and business history with the Vancouver based Hill, Murray & Associates (HM&A) in his application to the Arizona Corporation Commission.

In 2000, HM&A was sued by Powell River, B.C., which pulled out of a $5 million wastewater treatment plant project when its consultants determined Hill was not following commonly accepted engineering practices.

A year earlier in Iqaluit, the capital of the Canadian territory of Nunavut, the city council removed HM&A from its sewage treatment project when consultants determined the concrete tanks holding sewage leaked during tests.

Hill was paid nearly the entire amount for both contracts and left the city of Iqaluit with $5 million in repairs to make the sewage treatment plant functional.

In May 2005, Phelps, while working for Global, chaired a PAC against Proposition 402, a ballot question asking citizens to authorize WIFA (Water Infrastructure Finance Authority of Arizona) subsidized financing for the town's water and wastewater improvement projects.

It was unclear then why Phelps would promote the defeat of a ballot measure authorizing the town to obtain subsidized financing through WIFA, since defeat would only serve to make financing for the town's future needs more expensive for its citizens.

Voters authorized the town to obtain WIFA financing.

Now, Chutz and Phelps ask on their PAC's website: "Why are Cave Creek water users being charged for a service most can never use? Why are non-Cave Creek water users being charged for a service they can never use?"

They go on to state: "Remember that general fund transfer? That money comes from various revenues that are used for running the town, and comes from all residents. This means that every Cave Creek resident is also paying for some costs of the water/wastewater customers.
Why should well owners be responsible for costs that they derive no benefit from?"

First off, the water utility's debt service, operations and maintenance is completely funded by water revenues.

There is no property tax in Cave Creek, so people on wells are not paying for the debt service on the water company. However, should any of their wells go dry, which some in the area have, they will have the ability to hook up to the town's water supply.

The wastewater treatment plant is partially funded by excise taxes, which means sales tax is funding the difference between what sewer customer revenues bring in and what is required for the debt service.

WIFA loans are structured in a manner that requires the town to state the source of revenue from which the debt service is being paid.

Again, since there is no property tax in Cave Creek, people who spend money in Cave Creek, residents and tourists alike, are helping fund the town's wastewater treatment operations, as well as funding the various other town services and operations.

The same goes for every other municipality, whereas sales tax goes toward funding municipal operations and various debt services.

In the case of Cave Creek, the town looked to the future, since it was required to increase the capacity of its wastewater treatment plant and there was no room to expand the old facility because the parcel on which it was situated was too small.

It purchased land on Carefree Highway from the state land department to build a facility that would accommodate the town, including the annexation area to the west, through build out.

The decision to proceed with the project during economic uncertainty worked in the town's favor as it allowed Walmart to be built and with development activity at all but a standstill in Arizona at the time, the town was able to negotiate a design/build contract at a substantially reduced cost.

Phelps was on council when the old wastewater treatment plant was built in the middle of a residential neighborhood in Rancho Mañana.

The town was subsequently sued because of odors and resulted in the town having to purchase three lots from a neighboring developer who was unable to sell lots or homes in his subdivision.