BY LINDA BENTLEY | MARCH 27, 2013
Roadside clean-up Cave Creek style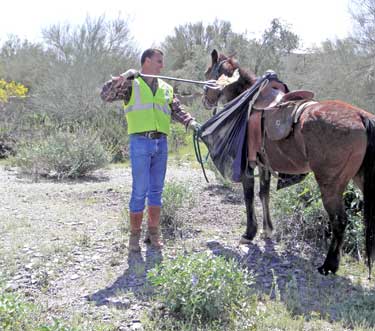 CAVE CREEK – Chris Potter, owner of Arizona Cowboy Concrete, has been seen picking up trash in Cave Creek with his horse Rocky along Cave Creek Road and Carefree Highway during the past week.

Potter, who is actually working for the town on this trash detail, said Town Marshal Adam Stein came up with the idea.

While it doesn't pay much, Potter said picking up trash with his horse is much easier than struggling with a trash bag on his own and when he's done for the day, his ride home is right there with him.

Potter said it takes him about a week or so to clean up the main corridors of Cave Creek along Carefree Highway from 24th Street to the town core along Cave Creek Road.

Many people have expressed how much they appreciate seeing him out there while Potter says he's enjoying the little bit of work that is in keeping with the town's image as an equestrian-friendly place.