BY LINDA BENTLEY | MARCH 27, 2013
APS announces final decision on 69-kV power line siting project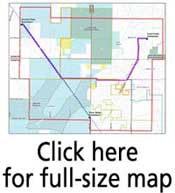 CAVE CREEK – APS sent out a mailer last week announcing the route has been selected for a new 69-kV electric power line connecting the Cave Creek and Gavilan Peak substations.

The new 69-kV will allow APS to meet its ongoing commitment to providing reliable electric service to its customers.

The Cave Creek Substation, which was built in 1964, provides power to customers in Cave Creek, Carefree, Phoenix and unincorporated Maricopa County.

By installing a second power line, connecting the two substations, it will prevent any extended loss of service in the event of a single-line outage.

After the year-long siting process, during which APS conducted public open house meetings and gathered nearly 500 comments, APS selected the "purple route," which follows the current route along Skyline Drive to Cave Creek Road and down the West side of Cave Creek Road to Carefree Highway, where it will go west along the south side of Carefree Highway to 42nd Street, where it will cross to the north side of Carefree Highway and continue west to 28th Street, where it will meet up with the existing APS right of way traveling diagonally northwest to the Gavilan Peak Substation at 12th Street and Shawna Drive in Desert Hills.

APS selected the "purple route" because it is the most publicly acceptable of the five proposed routes, created the least environmental impact, presented fewer engineering challenges and provided reasonable right-of-way acquisition opportunities.

Now that the route is selected, APS will begin acquiring right-of-way while it completes the final design and then begin construction.

With the selection of the route finalized, APS has completed the environmental planning and public participation component of the project.

Prior to construction, which is expected to be completed and in service sometime during 2015, APS will keep the public apprised through outreach communications.

Visit www.aps.com/general_info/Siting/current.html for more information about this and other APS transmission and facility siting projects.