MARCH 27, 2013
Scottsdale DAR Holds Annual Awards Ceremony
Scottsdale, Ariz. – The Grand Canyon Chapter, National Society Daughters of the American Revolution held their annual awards ceremony on Saturday, March 3 at Chaparral Suites in Scottsdale. Awards were given for DAR Good Citizen, Outstanding Community Service, Women in the Arts Recognition Award, and to students who won the annual American History Essay Contest and Christopher Columbus Essay Contest.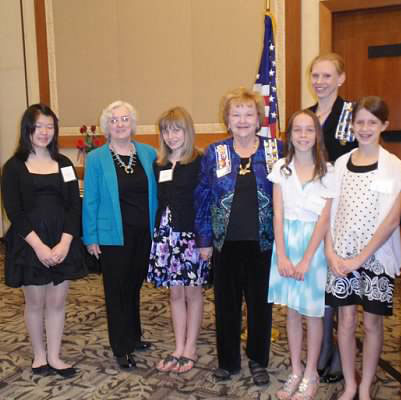 The DAR Good Citizen Award recognizes a high school senior who best exemplifies the characteristics of leadership, service, dependability and patriotism. The 2013 winner was Brooke Mower a senior at Desert Mountain High School. Brooke is a student in the International Baccalaureate program at DMHS, a particularly academically demanding course of study, and one in which she stands out as a superior student. In addition to her scholastic endeavors, Brooke is the Varsity Captain of the Cross County and Track teams, and has spent many hours volunteering with organizations such as Scottsdale Healthcare, OneSight, Relay for Life, Light the Night, Soles for Souls, Feed My Starving Children, and Maggie's Place Women's Shelter. Brooke has been granted early admission acceptance to Vanderbilt University in the fall of 2013 where she intends to pursue an M.D.

The Community Service Award recognizes worthy individuals in their communities for outstanding unpaid voluntary achievements in cultural, educational, humanitarian, patriotic, historical, citizenship, or environmental conservation endeavors. Annica Benning was honored with the Outstanding Community Service Award. Benning is an 18-year-old junior at Barrett, the Honors College at ASU, who, at age 14, wrote a book primarily for children on Native American culture and history in Arizona. The book is Arizona: Natives and Art and to date Annica has distributed her book for free to every 4th grader, every school library and every public library in Arizona to supplement the schools' curriculum and broaden awareness of our state's Native American influence.

The purpose of the Women in the Arts Recognition Award is to recognize and honor a woman who has made significant achievements at the community level in her artistic field. This year's winner was Helen Rowles. Helen has exhibited her art since 2002 throughout the Phoenix metropolitan area and is the recipient of numerous awards. But more than an exhibitor, Helen is a teacher, communicator, and inspiration to our community. Through her art, she attempts to reach out to women of different ethnicities with breast cancer. With understanding and compassion, she attempts to keep afloat those affected by this disease. While Helen's art continues to evolve, she keeps her focus on the common bond of sisterhood and patriotism.

The American History Essay Contest and Christopher Columbus Essay Contest provide an additional opportunity for teachers to reach out the existing American History curriculum. The American History Essay Contest is open to students grades 5 through 8 and the Christopher Columbus Essay Contest is open to students in grades 9 through 12, in a public, private, or parochial, or home school. For the American History Essay, this year's winner for the 5th grade contest was Sarah Broders of Cochise Elementary School; 6th grade contest winner was Grace Taylor of Cocopah Middle School; 7th grade contest was Megan Johnson of Gary K. Herberger Young Scholar's Academy; 8th grade contest was Adelina Effendi of Desert Canyon Middle School. The Christopher Columbus Essay Award Winner was Will Wehe, a junior at Chaparral High School.

The Grand Canyon Chapter will hold their next meeting on Saturday, April 13, 2013 at 11:30 a.m. For information on meetings or the DAR, contact Regent, Katie Paulsen, at azkpaulsen@yahoo.com.

The National Society Daughters of the American Revolution was founded in 1890 to promote patriotism, preserve American history, and support better education for our nation's children. Its members are descended from the patriots who won American independence during the Revolutionary War. The DAR is a non-profit, non-political volunteer women's service organization and any woman 18 years or older- regardless of race, religion, or ethnic background- who can prove lineal descent from a patriot of the American Revolution, is eligible for membership. With more than 165,000 members in approximately 3,000 chapters worldwide, DAR is one of the world's largest and most active service organizations. To learn more about the work of today's DAR, visit www.DAR.org,or for more information on the Grand Canyon Chapter of Scottsdale, visit http://grandcanyon.arizonadar.org/.