MARCH 6, 2013
Robert Emmett McBreen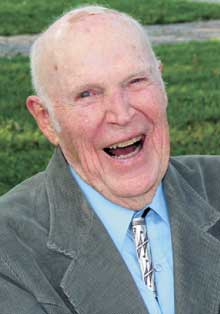 Robert Emmett McBreen, age 93, was born to Robert Emmett McBreen, Sr., and Edith (nee Feicke) on Oct. 14, 1919 in Cincinnati, Ohio. In the 20s, his parents took him on trips from coast to coast. After high school, he worked at the Feicke Printing Co., a business established by his grandfather.

When America entered World War II, Bob enlisted in the Army Air Corps, and eventually was stationed in England. As a B-17 co-pilot in the 569 Bomb Squadron, he was shot down over Bremen, Germany. He parachuted from the burning plane, was captured and spent 18 months as a prisoner of war. His war memories described incidents like confiscating barbed wire to make bedsprings and stretching meager rations to make cakes using fried prune pits instead of nuts.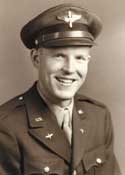 After the war, he attended the University of Cincinnati. There he met Louise Phillips whom he married in 1948; they had four children. Bob served as President of the Feicke Printing Co. even after he moved to Phoenix in 1972. He was happy to settle in the West, an area he loved. There he began a new career in commercial real estate development. Louise died in 1992. Later he met Jessie Biro at a church dance and they married in 1993. They lived in Carefree, Ariz., where Bob became active in Kiwanis , educated students about his war experiences, served as a museum docent with Jessie, and enjoyed friendships in his community.

Always an observer of nature, he had a bird menagerie at each of his homes. He filled his days with reading, bird watching, and supporting conservative causes and veteran memorials. For recreation he loved motor coaching, visiting family, and for fun, dancing.

After Jessie died in 2012, he moved to an independent cottage at Sunrise Creek in Montrose to be near two of his daughters. He died February 24, 2013. Everyone will miss his gentle ways and engaging smile. He is survived by his children: Anne (Max) Tjaden, of Clearwater, KS., Nancy (John) Fishering, of Montrose, CO., Robert (Darlene) McBreen, of Wilder, KY., and Elizabeth McBreen (Doug Bowman), of Montrose, CO.; stepchildren: David Biro of Phoenix, AZ, Barbara (John) Treccani of Chicago, IL, Cheryl (David) Zumwalt of Cave Creek; nine grandchildren, one great-grandchild; four step-grandchildren, six step-great grandchildren. A memorial service is being planned. Suggested memorials: Kiwanis Club, PO Box 1498, Carefree, AZ 85377; Air Force Association, 1501 Lee Hwy., Arlington, VA 22209.