BY LINDA BENTLEY | FEBRUARY 27, 2013
Slate candidate threatens to crash mixer at private home
Neither Durkin nor Trenk registered political action committees for those purposes prior to collecting donations and making expenditures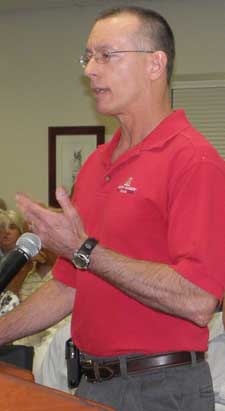 CAVE CREEK – Planning Commission Chair Dan Baxley said he received a call from slate candidate Mike Durkin (r) at 8:30 a.m. on Monday, requesting that he and others be allowed to attend a mixer at Baxley's home that evening.

Baxley told him he could not attend and that it was a private party.

According to Baxley, Durkin insisted that since the town posted a courtesy notice that quorum of members of the town council, planning commission or board of adjustment might be present, that it was a public meeting and he had a right to attend.

Baxley said Durkin insisted he was going to attend and was bringing a large group of people with him.

Because of Durkin's threat, Baxley purchased and posted no trespassing signs on his property and hired an off-duty Maricopa County Sheriff's deputy to work his event.

However, Baxley said Tuesday morning that Durkin and his group did not show up and the meet and greet mixer turned out to be a very well-attended and pleasant event.

People that have been holding informal meet and greet gatherings at their homes for candidates have been informing Cave Creek Town Clerk Carrie Dyrek, who has been posting courtesy notices on the town's website that quorums may be present but explicitly states it is not a public meeting and no official action will be taken.

Since the notices are posted online, Durkin has called others who have been holding private events in their homes trying to get himself and other slate candidates invited to their meet and greet mixers.

Apparently Mike Chutz, chair of the political action committee supporting the slate of challengers to the incumbent town council, has also taken issue with his slate of candidates not being invited to meet and greet mixers in private homes and fired off an e-mail on Monday to the mayor, council, town manager and the slate candidates.

Chutz referred to the meet and greet mixers at people's private homes "private forums" and balked about them being closed to the public and his slate of challenging council candidates.

Calling it a "grave concern" that a quorum of four or more members of council might be present in the same room at a private party, Chutz claimed the event could be "construed as a violation of the open meeting law" and said, "It certainly has the appearance of impropriety."

While Chutz threatened to retain counsel to assure adherence to all of the election laws, stating, "Because this is a vigorously contested election it is in everyone's best interest to adhere to the strictest ethical code and to avoid even the appearance of impropriety," some of his slate candidates have been having difficulty adhering to campaign finance laws.

Mike Durkin has made campaign expenditures to support the slate of challenging candidates while Adam Trenk has made campaign expenditures in opposition to certain incumbent candidates.

Neither Durkin nor Trenk registered political action committees for those purposes prior to collecting donations and making expenditures, as required by law.

Although Chutz and Trenk are both attorneys, neither one seems to be cognizant of Arizona's campaign finance laws.

And Chutz and Durkin do not understand private property laws and what a courtesy notice means.

According to Dyrek, the town posts courtesy notices when they are advised that a quorum may be present at a private event, for the express purpose of letting the public know there will not be any business conducted at these private events.

Because these are not public meetings, Dyrek said the town has no duty to post a notice and simply posts a courtesy notice to avoid the appearance of impropriety.

Dyrek said posting courtesy notices for these meet and greet mixers held at private homes is no different than when the town posts a notice for its annual Christmas party or any other social event elected and/or appointed officials may wish to attend.