FEBRUARY 27, 2013
Heard Museum North hosts Mata Ortiz Pottery Show and Sale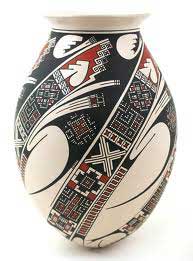 PHOENIX — Art enthusiasts are invited to attend Heard Museum North Scottsdale's Mata Ortiz Pottery Show and Sale, a display of the distinguished Mexican pottery handmade by potters from Mata Ortiz, Mexico.

The art exhibition will take place from 10 a.m. to 4 p.m. Friday and Saturday, March 15 and 16, and from 11 a.m. to 4 p.m. Sunday, March 17, at the Heard North, 32633 N. Scottsdale Road, Scottsdale. The weekend art show will feature premier Mata Ortiz pots, Zapotec weavings and Oaxacan wood carvings by Jacobo Ángeles.

Mata Ortiz pottery, named for the small town in Chihuahua, Mexico, in which it is made, is an inspired recreation of ancient pottery found near archeological sites in Casas Grandes, Mexico. Damian Quezada, nephew of the art movement's founder Juan Quezada, and Jorge Quintana, a fellow master of Mata Ortiz pottery, will be present at the Scottsdale exhibition.

Juan Quezada revived the centuries-old pottery style in the 1970s with his own modern twist. According to mataortiz.com, he incorporated the contemporary Mimbres designs of the Southwest and Native American cultures to the ceramic pieces and Mata Ortiz pottery was born. The intricately designed pots require an intensive process, with each artist digging the clay, molding the coils, painting the design and then firing the piece in the same method that Mexican artists have used for hundreds of years. Modern Zapotec weavings will also be on display at the art show.

The film documentary, The Renaissance of Mata Ortiz (2010, 82 min) will be shown continuously throughout the three-day event. The film by Scott Petersen tells the astounding tale of how anthropologist Spencer MacCallum discovered the work of Juan Quezada and how Mata Ortiz pottery became a world renowned art form. The film won the Directors' Choice Award for "Best Arts Film" at the 2012 Sedona Film Festival.

Visit heard.org or join them: pinterest.com/heardmuseum, Facebook.com/heardmuseum
twitter.com/heardmuseum, youtube.com/heardmuseum.