FEBRUARY 20, 2013
Richard (Dick) Reese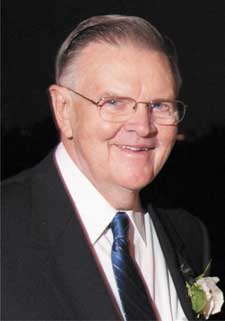 Beloved husband, father, grandfather and friend passed away peacefully, surrounded by family Feb. 11, 2013 in Phoenix, Arizona after a noble battle with prostate cancer.

He is survived by his wife of 60 years, Marilyn Corfman Reese, his sister Nancy (Orville) Coward, his children Dave Reese (Stephanie), Keith Reese (Kelley), and daughter Judy Acino. Also by his grandchildren Ashley Reese, Lauren (John) Foley, Erin (Josh) Brettmann, Russell Reese, Stacy Brunn, Katherine (Ryan) Patchak, Morgan Acino, ReiAnne Reese, great grandchildren Makayla Blakeley and Ryan Twichel, and nieces Kym (Mark) Martin and Stacey Lake.

Dick was born in Sharon, Penn. in 1929 and graduated from Brookfield, Ohio high school in 1947 and Case Institute of Technology 1951 with a BS in Civil Engineering. He worked for Chance/Vought Aircraft in Dallas, TX 1951-55 and then joined Chicago Bridge & Iron at its Greenville, Penn. plant. There and in Oakbrook, Ill. he held various postions with CBI until retiring in 1987 as Vice-President of Purchasing. He co-founded two successful home building businesses with his son Dave-Reese Custom Residences in 1987 (Ill.) and Platinum Homes in 1988 (Ariz.).

Dick will be remembered for his sense of humor and good nature and as a role model for his family and large circle of new and longtime friends. He actively participated in his church, singing for several decades in the choirs in Cortland, Ohio, Dallas, Texas, Greenville, Penn., Glen Ellyn, Ill., and Scottsdale. Dick was a dedicated sports fan. He was an avid golfer and long time member of Desert Mountain, Terravita and Aspen Valley, passing on a love of the game to his family. He enjoyed tennis and ping pong as well. His other hobbies included travel, bridge, and investing but most of all, spending time with family and friends, through which his legacy lives on.

In lieu of flowers, the family suggests donations in his name to Hospice of the Valley (1501 E Flower St, Phoenix, AZ 85014), The American Cancer Society (2120 First Avenue North, Seattle, WA 98109) or Pinnacle Presbyterian Church.

Services to be held on Saturday, Feb. 16 at 2 p.m. at Pinnacle Presbyterian Church, 25150 N. Pima Road. Please visit www.hansenmortuary.com to place online condolences.