BY LINDA BENTLEY | JANUARY 9, 2013
Mast has changed the minds of some teachers in her district who are now interested in becoming trained in the safe handling of firearms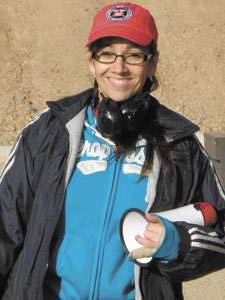 PHOENIX – Mindy Mast (r), a second grade teacher at Country Meadows Elementary School in the Peoria Unified School District, was raised around guns in a family that hunted both with rifles and archery.

However, she became more concerned about having a handgun and a concealed carry weapon permit (CCW) to protect herself and her four children, now aged 10-19, from her "crazy ex-husband" several years ago.

Then there was that guy that "appeared in her hallway" during Christmas Break.

Mast received her CCW after attending NRA certified instructor J-P Maldonado's class.

Maldonado was so impressed with her knowledge and marksmanship, he encouraged her to go on to become an NRA Instructor, which she has since done.

As gun control has become a focal point of the Obama administration since last month's Sandy Hook Elementary School shooting in Newtown, Conn. during which Adam Lanza, 20, murdered 20 children and six adults, Mast believes teachers should have the ability to defend themselves and the children under their charge.

Mast said her principal is behind her 100 percent.

She also said she has changed the minds of some teachers in her district who are now interested in becoming trained in the safe handling of firearms.

And while Arizona is now a right-to-carry state without requiring a permit for concealed carry, an Arizona CCW permit is recognized by most other states and allows for immediate possession when purchasing a gun without the need for a background check.

Visit training.NRA.org for more information about NRA pistolcraft and armed self defense training.