JANUARY 16, 2013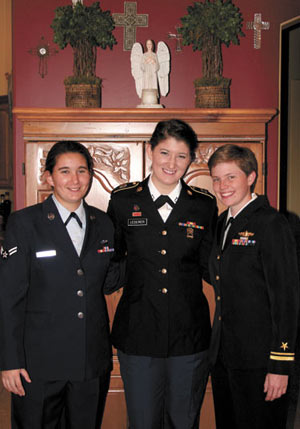 New Year military family homecoming

Kevin Aldridge, wife Donna, daughter Morgan and son KJ had the pleasure of hosting a barbeque at their home in Cave Creek for three cousins currently serving on active duty in three different branches of service. (l-r) Airman 1st Class (Air Force) Jennifer Lederer (Sandra Day O'Conner H.S. 2009) Aviation Resource Management @ Beale AFB CA, Private First Class (Army) Ashley Lederer (Sandra Day O'Conner H.S. 2008) 68W Combat Medic @ Yongsah Station South Korea, and Lieutenant Junior Grade (Navy) Kyla Zenan (Mingus Union H.S. 2006) (Grace College 2010) Auxiliaries Officer USS Blue Ridge in Yokosuka Japan.

We are all very proud and wish all the best for all of our Soldiers, Airman, Sailors and Marines serving our country.

"Family and Friends," a new Sonoran News feature about celebrations and milestones in the lives of people who are most important to us. We invite you to submit "photographs and paragraphs" via email to news@sonorannews.com. Please use Family and Friends as the subject line. Please include a paragraph of information you'd like to share with our readers about the person(s) and the occasion. Photos should be original high resolution jpg files.