BY LINDA BENTLEY | JANUARY 9, 2013
Jo Gemmill receives Mayor's Award
Gemmill said the parade was wonderful, the fireworks were spectacular and the vendors' market was 'twinkly'
CAREFREE – Jo Gemmill provided the town with a Christmas Festival update during Tuesday's council meeting.

She said it was an excellent weekend and stated, "We spent your money wisely."

Gemmill said the parade was wonderful with approximately 20,000 people attending, the fireworks were spectacular and the vendors' market was "twinkly."

According to Gemmill, the sponsorship was phenomenal this year and will enable the festival to hand back $10,000 to the town.

Gemmill also provided council with a promotion report from Proven Media, and explained the importance of the $2,400 paid to Kim Prince's firm for PR.

The report quantified the value of publicity received as a 68:1 return on investment valued at $163,572.

Gemmill said Foothills Animal Rescue was able to adopt out five dogs during the festival and raised more money than previously.

She also said in all her thank you letters to the editor she forgot to thank Maricopa County Sheriff's Office deputies and volunteers that helped with crowd control during the festival.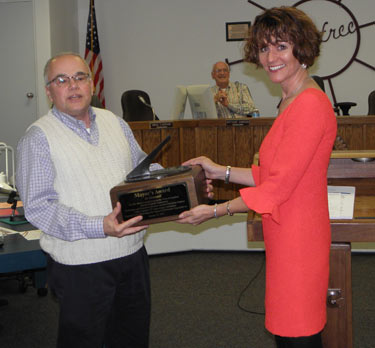 As Gemmill concluded her presentation, Mayor David Schwan came down from the dais and presented Gemmill with a large sundial Mayor's Award, which recognized her for "her many contributions to the town of Carefree and the Foothills community; co-creator and executive director Carefree Christmas Festival; chair, Carefree 25th Anniversary Celebration; Carefree town marketing; support of volunteer organizations."

Schwan said he has only issued one other such award during his two terms as mayor with the other going to Mark Wdowiak of Desert Foothills Landscape for his contributions to the town's gardens.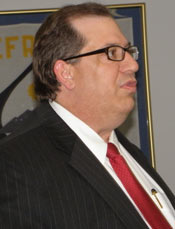 Matt Owens (l) of Owens Harkey Advertising provided council with an update on their marketing campaign.

He said the town was coming into its high season and the "What's New" blog is being updated regularly.

Owens said they are working on getting Carefree brochures back in the airport and have started a new advertising campaign with Key Magazine which is targeted primarily to concierges.

He said an ad will run in Experience AZ magazine targeted to Fiesta Bowl visitors and the agency is gearing up with the Arabian horse show to pull people up from West World.

According to Owens, the visitcarefree.com website is the real focus and is up 161 percent with tracking on the website.

He said peaks in page views seem to surround events and they are trying to build up their image library.

While the town is coming into its high season, Owens said PR is their primary focus right now.

Councilman Marty Saltzman said he didn't see the sundial logo on any of the agency's material and asked if there was a conscious decision not to use it even though the town has branded itself with the logo on its signs and street signs throughout town.

Councilman Arthur Gimson said it wasn't a conscious decision not to use it but rather not a conscious decision to use it.

Owens said they stuck with the script font for Carefree used throughout.

He said for advertising, they look for reach and frequency within their targeted demographics but noted there were fewer businesses in town than when they started and stated they need to attract new businesses to the town.

He said many people click off the website within 20 seconds and they are trying to keep visitors engaged on the website longer.

Currently they are hovering around one to one and a half minutes. They are also utilizing pay per click ads.

Schwan said the town needs to expand its base of revenue and try to appeal to people that are different from Carefree.

Gimson expressed concern about the 2 percent increase in payroll taxes impacting people's paychecks and the effect that may have on the town.

With Vice Mayor Melissa Price and Councilman Mike Farrar absent, council unanimously approved the financial reports for November 2012.

Town Accountant Jim Keen said the town received the grant money for the street sweeper it purchased in July and stated revenue should increase as the town enters its high season.

Council also unanimously approved a gift Quit Claim Deed for 20 acres of land from the Van Weelden Family Trust to be held as open space in perpetuity contingent on a clean title search.

The parcel is in the same vicinity as the thirty acres of land recently purchased by the town and the adjoining 10 acres donated to the Foothills Land Trust as open space.

Town Administrator Gary Neiss indicated the town would be talking to property owners in the area in an effort to connect the new 20-acre parcel to other 40 acres.