BY LINDA BENTLEY | JANUARY 2, 2013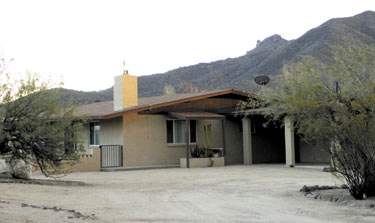 Adam Trenk used the address of this home on Gunsight Road to qualify for Cave Creek Town Council even though he has been living in Scottsdale since around March 2011. Records reflect he closed on the Gunsight home in June 2012, disclosing it would "be rented to someone other than a family member." Photo by Linda Bentley



CAVE CREEK – On Dec. 27, Attorney Tom Rawles, on behalf of his client Rob Papineau, filed a complaint in Maricopa County Superior Court to have Adam Trenk declared ineligible and unqualified to be a member of Cave Creek Town Council and removed from the March 12, 2013 ballot.

Papineau and Trenk were at odds with one another last year over the imposition of a property tax for fire protection services, with Papineau in favor of the property tax and Trenk against.
Not counting weekends and legal holidays, challenges had to be filed within 10 days of the Dec. 12 deadline for candidates to submit nomination papers seeking to have their names included on the ballot and Dec. 27 was the last day.

The complaint states Trenk, 29, does not meet the residency requirement of one year, as per A.R.S. § 9-232(A), which states, "A person shall not be a member of a city or town council unless, at the time of the election, the person is eighteen years old, is a qualified elector residing within the city or town at the time of the election, and has resided in the city or town for one year next preceding the election …"

Trenk also failed to provide the date of the election on his nomination paper, as required by A.R.S. § 16-311(B), which requires every candidate for nonpartisan office to "sign and caused to be filed a nomination paper … giving the date of the election." Trenk left the field for the date of the general election blank.

Trenk didn't close on the house on Gunsight until June 15, 2012. The complaint alleges, "Prior to acquiring the Gunsight Road property, defendant Trenk was living in Scottsdale, Ariz." and probably had been since sometime around April or May of 2011.

According to Maricopa County recorded documents, Trenk and his fiancée purchased the home in Scottsdale on Feb. 25, 2011.

On March 21, 2011, MLS Records show Trenk listed his Highland Road house in Cave Creek for lease and signed a lease agreement effective June 26, 2011 for $2,000 per month.

The listing stated, "Landlord prefers June possession, but may consider sooner."

It is assumed Trenk preferred a June occupancy date because he was still a member of town council at the time and would be required to be a resident to continue serving.

The Affidavit of Property Value also indicates Trenk and his fiancée, now wife, purchased the home on 70th Street in Scottsdale "to be occupied by owner or family member."

The home on Gunsight Road was purchased not only as Trenk's sole and separate property but "to be rented to someone other than a family member."

When asked about how he met the residency requirement to run for council, since he was not living in Cave Creek for one year immediately prior to the election, Trenk responded by saying statute allows for a temporary absence and cited a section of statute that applies to electors, not residency requirements to serve on town council.

Even if Trenk were living in the Gunsight home since June 15, 2012, which does not appear to be the case, he would still fall a few months short of the one-year residency requirement to hold a seat on council.