BY PETE MOHR | JANUARY 2, 2013
Is there a Kentucky Derby ride in his future?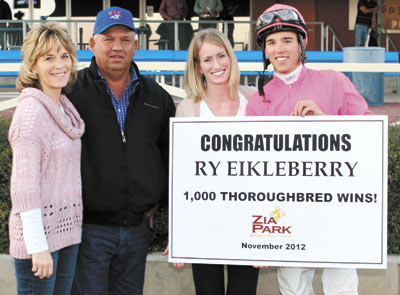 The sign tells the good news! Creekers Pam and Kevin Eikleberry, well known in the local equine community, celebrated with the youngest of their three sons, Ry, and his new bride, the former Jilique Joubert, Ry's 1,000th thoroughbred racing victory. The milestone win was achieved Nov. 19, 2012 in the 11th race at Zia Park in Hobbs, New Mexico. Courtesy photo


At his May 2003 graduation from Desert Arroyo Middle School, Creeker Ry Eikleberry, then 14, proclaimed his professional goal of becoming the first jockey in his family's long history as horsepersons. Two years later, under the mentoring of his parents – Creekers Kevin and Pam Eikleberry – Ry complete three semesters at Cactus Shadows where, as a flyweight wrestler, he learned the invaluable lesson of "making weight." To pursue his dream, Ry left CSHS, earning his jockey's apprentice license. In July 2005 at Denver's Arapahoe Park, riding a horse trained by his father, he won his first race.

Were Frank Sinatra still with us, "Old Blue Eyes" might have updated his late-1960s hit thusly: "In Two Thousand Twelve, it was a very good year … for daring young men on fine racing steeds … We marveled at their deeds ... in Two Thousand Twelve."

Ry Eikleberry will turn 24 on January 11 of this year. He is too young to have the Sinatra classic listed among his iTunes; but for Ry, 2012 was, indeed, "a very good year" … and then some! First on August 4, he married Jilique Joubert. Ry and Jilique first teamed up in the summer of 2005 when he was jockeying at Canterbury Park in the Minneapolis area. When Ry is racing, Jilique is, of course, his biggest fan. She even watches him thunder around the racetrack, which Pam, confesses she can't do, a Mom's cowardice!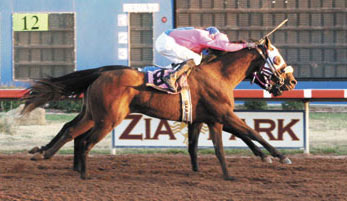 Next, on November 19, Ry rode his 1,000th winner in the 11th race at Hobbs, New Mexico's Zia Park. Then, on December 2, riding Forest Mouse, Ry recorded an important 1st Place finish in the $218,120 Distance Championship, Zia Park's richest race – and the most significant win of Ry's career thus far.

After Ry's 1,000th, leading Zia trainer Joel Marr praised to Bloodhorse.com, "I promise you there's no stronger finisher here. I know when they come down the stretch and they're neck and neck, Ry's going to get the nod. He can pick up a horse that's completely done and carry them home the last 50 yards. It's unbelievable!"

So why did Ry depart Phoenix's Turf Paradise where he won the title of "Jockey of the Year" three consecutive winter-spring seasons (2009 – 2011)? The answer to that question is virtually axiomatic in the world of thoroughbred racing. Larger purses attract the better horses ridden by the more in-demand jockeys.

Most jockeys appear almost dwarfed by Ry's 5'9"! In May 2010 I was Ry's guest in the Jockey Room at Turf Paradise. I reflected Ry seemed almost Gulliver-like among his Lilliputian-sized colleges, most of whom hail from Central America. More importantly, I saw clearly that as their fellow professional, Ry had earned their respect and friendship. Quite a compliment to the Anglo "giant" who first and foremost, was their everyday competitor.

By winning larger purses at tracks where casino gambling is permitted, Ry positions himself to build his growing reputation among horse owners and trainers. Put simply, that's Ry's game plan for someday obtaining rides on Triple Crown megabucks races. Don't bet against him!

"I want to ride until I'm at least 40," Ry told me in a telephone interview. "Then," he continued, "I'll see what physical condition I'm in (meaning how his hips, knees and legs have held up) and decide whether I want to keep riding." He and Jilique can retire anytime to their attractive home in north Phoenix's "Fireside" community.

Here's a little "Ry on Ry," as he shared last November 24 with turf writer Frank Angst of Bloodhorse.com: "On race days, I think about how much I've put in to getting where I am today. And in my tomorrows, I want to make sure I give my best in every race." On December 4, Ry relocated to El Paso's Sunland Park, where he's already racing toward win No. 2,000. Odds are he'll get there.

So congratulations and "Happy New Year" to Ry and Jilique – and to their respective parents. Here's hoping that a little late in the afternoon of some first Saturday in a future May, Ry, who'd been repeatedly told he was "too big" to make it as a jockey, will be easy to spot in his Eikleberry silks. Ry, I'll see you at the Derby!