BY LINDA BENTLEY | DECEMBER 26, 2012
Creeker plans to challenge Trenk's candidacy
'Resident' is defined as 'an individual who has actual physical presence in the political subdivision, combined with an intent to remain'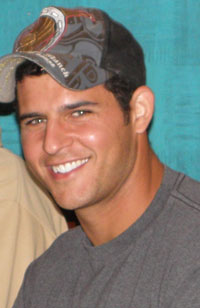 CAVE CREEK – A Cave Creek resident, who asked not to be identified, indicated on Monday that he intends to file a complaint in Maricopa County Superior Court challenging council candidate Adam Trenk's eligibility to appear on the March 12 primary election ballot.

As Sonoran News pointed out last week, there is a question as to whether or not Adam Trenk meets the statutory one-year residency requirement.

According to A.R.S. § 9-232(A), "A person shall not be a member of a city or town council unless, at the time of the election, the person is eighteen years old, is a qualified elector residing within the city or town at the time of the election, and has resided in the city or town for one year next preceding the election …"

Sometime after Trenk got married he apparently leased out his home on Highland Road and moved out of town to Scottsdale we are told.

Records also indicate Trenk didn't purchase his home on Gunsight Road, the address he provided on his PAC Statement of Organization, until June 15, 2012.

Since the primary election is in March 2013, it appears Trenk falls a few months short of the one-year residency requirement to serve on council.

When Sonoran News asked Trenk about meeting the residency requirement, he responded by saying "statute allows for a temporary absence."

He stated he had friends living at his house on Highland who were taking care of his horses while he was living away and said he would forward the statute allowing for temporary absence.

Trenk forwarded A.R.S. § 16-101(B), which states, "A temporary absence does not result in a loss of residence if the individual has an intent to return following his absence … An individual has only one residence for purposes of this title."

However, the statute applies to electors, and while Trenk may qualify as an elector, he must also meet the one-year residency requirement to be a council member.

Trenk argued the definition of temporary absence "is plainly intended to apply to the entire title," not just the section on electors where it is located, and said, "Interpret it however you want. Most minds will differ on the interpretation and intent of words, and perhaps that is one of the tragedies or blessings of law."

Although he acknowledges he was not living in town for a period of time, he concluded by saying, "I am a Cave Creek resident, never stopped being one."

There is case law (Orgeron v. Town of Quartzsite), however, regarding the statutory one-year residency requirement for being a member of town council.

U.S. District Court Judge Roslyn O. Silver addressed this very issue on July 20, 2012, citing the pertinent part of A.R.S. § 9-232(B) as well as Section (A), which defines "resident" as "an individual who has actual physical presence in the political subdivision, combined with an intent to remain."

Prior to June 15, 2012, when Trenk purchased his home on Gunsight, he did not have actual physical presence in the town, which would appear to still leave him a few months shy of the residency requirement to be a member of council this time around.