BY LINDA BENTLEY | DECEMBER 19, 2012
Aggravated assault, other charges lands teen in jail for Christmas
CAVE CREEK – Maricopa County Sheriff's deputies responded to a domestic violence call Monday afternoon at the Village Apartments located at 6434 E Cave Creek Rd., where a woman in her teens was being held against her will.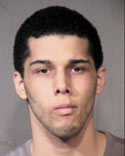 The incident began with an argument between Joshua P. Caputo, 19, and his "on again-off again" girlfriend, whose identity was not revealed, at Caputo's mother's apartment.

According to MCSO, Caputo wanted to visit his mother, who is serving time in jail for a DUI, but his girlfriend did not want to take him.

Apparently pushing and shoving ensued and Caputo's girlfriend tried to leave. Caputo grabbed a shotgun, which he put to his chin, telling his girlfriend he would kill himself if she tried to leave.

Caputo then allegedly pushed her on the bed and fired the shotgun through the wall of the apartment into a hiking trail behind the building where hikers were present.

His girlfriend was able to run away to a neighbor's apartment where the 911 call was made.

An MCSO spokesperson said Caputo, realizing law enforcement would be on their way, grabbed all the guns in the apartment and took them outside and set them under a tree.

When MCSO deputies arrived, Caputo, who incorrectly believed he was an illegal possessor of weapons, told them he didn't have any guns. However, when deputies asked him to explain the hole in the wall, he realized he didn't have an answer and "came clean."

Deputies subsequently located the weapons outside behind the building.

Although Caputo is 19, Arizona statute only requires a person to be 21 to purchase a firearm while one can be a possessor at 18.

Caputo is being held without bond at Maricopa County Jail on one count each of assault with a deadly weapon, kidnapping, disorderly conduct, assault and misconduct involving weapons.

Caputo has other charges pending from January when he was arrested for marijuana and drug paraphernalia violations but failed to appear for his initial hearing. An arrest warrant was issued in March and Caputo was arrested last month.

Although initially released on $1,000 bond, the court ordered the bond exonerated and allowed Caputo to be released on his own recognizance.

He is scheduled to appear on Dec. 20 for a hearing on those charges with his initial appearance on the new charges scheduled for Dec. 26.