BY DON SORCHYCH | NOVEMBER 7, 2012
Hidden In The Hills deserves better
It was sad to see Sonoran Arts League leave Cave Creek but it seemed SAL had found a home in Carefree. That is until I saw a roadside flyer advertising a Magic Bird event in Carefree on the same dates as Hidden in the Hills.
Hidden In The Hills has an illustrious history where art lovers can visit artists' homes, see their art and see them at work. It has been highly successful and a real sales avenue for hard working artists.
It is one thing when Cave Creek and Carefree schedule on top of one another but two "art" exhibits in Carefree at the same time? I have received angry calls from SAL members. Sadly they want Sonoran News to do something about it but refuse to give their name when voicing their concerns.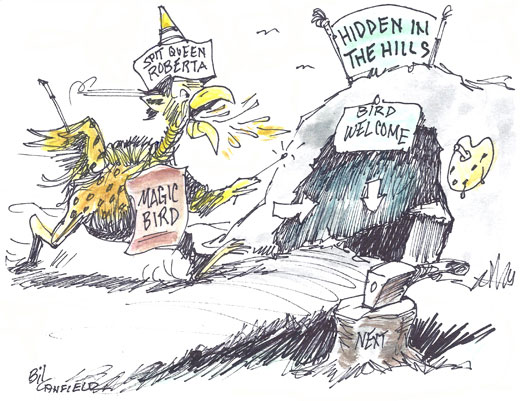 I find the Magic Bird Arts and Crafts Show was approved by Carefree in spite of the overlap with Hidden In The Hills.
I have to wonder if the Carefree Council is aware neighboring Cave Creek will not allow Magic Bird event permits.
In past years Magic Bird was a hated event provider in Cave Creek. Local retail establishments wailed at council meetings that the intrusion of Magic Bird caused them lost sales and that Magic Bird booked the five key weekends during high season.
It didn't help that a rumor was confirmed by the Cave Creek auditor that vendors of their shows didn't collect sales tax if the purchaser paid in cash.
When Cave Creek refused to authorize Magic Bird shows they held five shows in one season anyway. Cave Creek claims Magic Bird owes them about $45,000 dollars and for that reason will not approve their events. If you wonder why the town has not sued for the $45,000 it is probably because the town attorney at that time opined the town couldn't collect because they hadn't approved the event.
Then there was a later event in a council meeting when Lester Recklin, co-owner of Magic Bird, sat in the audience and, as usual, was carrying on. When he left, he grabbed Town Manager Usama Abujbarah's shoulders and whispered something in his ear, then swaggered out.
Abujbarah sat for a moment and then followed Recklin. In another moment or two a terrified Recklin forced the council double door open and claimed Abujbarah had slammed him into a car and he was a heart patient. His panic was palpable and I have a photo to prove it.
Abujbarah denied Recklin's claims.
When I first started Sonoran News in 1994 I was acquainted with a number of activists who were not fond of Recklin. When one of them left town they gave me a private investigators' report on Recklin's background and it wasn't pretty, although I never used it.
But it wasn't always that way. I was on the Cave Creek Merchants Association Board and we worked closely with Lester and his significant other, now wife, Roberta. They worked hard to ready the hill near Harold's for July 3 fireworks. Recklin and an employee dragged soaker hoses up there and made things safe for the event. For a while they were substantial members of the association.
We were holding a meeting at the bowling alley where Cartwrights is now located. Recklin was carrying on about something and the president, Bart Krasson said, "Shut up Lester." Roberta jumped up and said, "You will be sorry for that!" and she left with Recklin following her.
Subsequently Bart's dad Ron got a permit to do some work on the building that now houses the Hideaway. Recklin stayed across the road for hours every day, photographed the activities and went to Town Hall frequently to file complaints. The town felt the complaints were bogus and finally denied access to Recklin.
The Merchants Association was holding a meeting at the Buffalo Chip Saloon and Recklin was his usual abrasive self. When the meeting broke up Recklin deliberately bumped me and Abujbarah stepped between us to prevent a fight.
We went outside and Roberta, without warning, spit in my face, a most vile, disgusting event. As luck would have it a MCSO patrol car came by and I asked him if what she did was actionable. He said it was and hit her with an assault charge.
For various reasons the town sought an outside magistrate and a woman judge was assigned. I asked her for the death penalty. She obviously had never had anyone spit in her face and Roberta was ordered to stay away from me for a year and attend anger management classes.
Having someone spit in your face is an unforgettable and disgusting thing and the sentence was way too light. Anyone with such a vile mouth should be required to wear a mask for life.
So now this couple is chipping away at the success of real artists and in my experience wonderful men and women who are part of Hidden In The Hills.
When Magic Bird was in Cave Creek they were always accused of displaying and selling crafts, at best, and no real art. Although Magic Bird claims otherwise, I suspect they are tenth rate, at best. If you want to see real artists and their lovely work, by all means take the time to visit all the sites offered by local artists.
And by the way, this smacks of continuing Good Old Boy control in Carefree. When C4 was open it was unusual to see Recklin seated with other than Hugh Stevens, the ex-council president in Carefree who was smacked down by Carefree voters. Now he is the ex-officio head of the Good Old Boys.