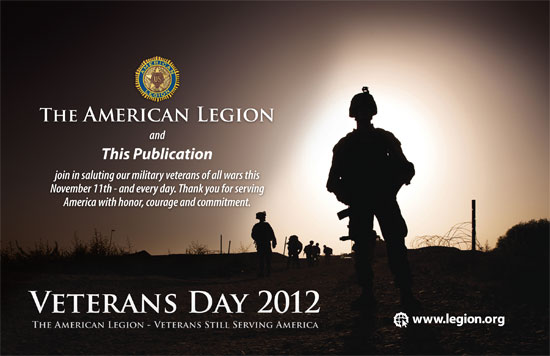 NOVEMBER 7, 2012
Daisy Mountain Veterans Parade and Family Picnic
ANTHEM – The Daisy Mountain Veterans Parade in Anthem will take place on Saturday, November 10, followed by a family picnic in the park. Activities including entertainment and games will be available immediately after the parade, with vendors in a food court providing a wide variety of refreshments.

The parade will step off at 10 a.m. from King Drive and Gavilan Peak Parkway. The line of march will be north on Gavilan Peak Parkway, turning east on Anthem Way, then south on Freedom Way and concluding at the Anthem Community Center. Brief ceremonies will take place at approximately 12:30 p.m., with the Horseshoe Trails Elementary School chorus performing the National Anthem and The Civil Air Patrol Deer Valley Squadron #302 presenting the colors. This Day and Age, a group of students from Boulder Creek High School, will entertain. The Salt River Regulators will conduct a western reenactment at 12:50 p.m. At 1:15 p.m. the Diamond Canyon School chorus will perform. Then Boy Scout Troop 432 will demonstrate a flag retirement ceremony at 2:30 p.m. Movement E-Motion from the AZ Dance Group will perform at 2:40 p.m. Spectators may enjoy the food court, beer garden and games for the children until 3 p.m.

The procession will be led this year by the United States Marine Corps Mounted Color Guard from Barstow, California. This is the group that has previously led the Rose Bowl Parade numerous times. Grand Marshals for the event this year will be five former prisoners of war, fourteen Purple Heart recipients and eleven Wounded Warriors. In addition, the parade will honor Sgt. Bowe Bergdahl, currently a POW in Afghanistan.

Other participating units will include the 108th U.S. Army Marching Band, Combat Vets Motorcycle Association, Sheriff Joe Arpaio, Daisy Mountain Fire Department, Arizona Rough Riders, Boulder Creek High School Band, Arizona Submarine Veterans, the Marine Corps Vietnam Mule, El Zaribah Shriners, the Wells Fargo Stagecoach, ProMusica AZ Chorale & Orchestra, Starlight Community Theater, Sandra Day O'Connor HS JROTC with the "Freedom Flag", Pioneer Living History Museum, Musical Theatre of Anthem, the Iwo Jima Memorial and many more. Members of the various units will be available to meet the public on "Veterans Row" immediately following the parade, and floats and equipment will be open for viewing.

The Daisy Mountain Veterans will again participate with the U.S. Marine Corps in the Toys for Tots program. Collection boxes will be placed at several locations along the parade route, and toys donated will be distributed to needy children during the holiday season. Bring an unwrapped toy to the USMC Toys for Tots booth at the family picnic following the parade and receive a free slice of the Marine Corps' 237th birthday cake!

The Daisy Mountain Veterans organization is a non-profit group comprised of American Legion Post 128, American Legion Auxiliary Unit 128 and Veterans of Foreign Wars Post 12031, all based in Anthem.

"We have 100 volunteers who have worked throughout the year to put together a wonderful parade under some trying circumstances," said Mary Ann Derryberry, Chair of the event. "It will be a highly patriotic and very enjoyable day for the entire family."

Be sure to join us in Anthem on November 10 for what may very well be the best veterans' celebration in Arizona.
NOVEMBER 7, 2012
American Indian Veterans National Memorial to be dedicated Nov. 14 at Heard Museum

Large-scale outdoor plaza features life-size sculpture, descriptive panels on up to 15-foot concrete walls; Medal of Honor recipient to speak at public ceremony
PHOENIX — Service and sacrifice spanning more than three centuries will be honored in the first and only known national memorial to American Indian veterans of many conflicts to be dedicated at a public ceremony Nov. 14 at the Heard Museum in Phoenix that will feature remarks by the only living American Indian recipient of the Medal of Honor.

The American Indian Veterans National Memorial contains 120 feet of concrete walls up to 15 feet tall bearing several panels describing the devotion of American Indian warriors to their country. The panels will include a special tribute to American Indians who received the Medal of Honor.

The memorial is being completed while two exhibits on the contributions of American Indian code talkers – one from the Smithsonian Institution – are on display inside the museum.
Medal of Honor recipient Lt. Michael Edwin Thornton (Cherokee), a retired Navy SEAL who served in the Vietnam War, and retired Army Lt. Col. Joey Strickland (Choctaw), director of the Arizona Department of Veterans Services, are among several speakers scheduled to address the 5 p.m. gathering at the monument.

Thornton received the medal in 1973 for the lifesaving rescue of his senior officer the previous year. He is one of only 15 U.S. Navy personnel to have received the Medal of Honor for heroic conduct during the Vietnam War. Strickland, awarded the Legion of Merit, was appointed director in July 2008. He served in the Vietnam War in 1967-1968 with the 1st Air Cavalry Division, and in a second Vietnam combat tour in 1970-1971 with the First Aviation Brigade as a crew chief and door gunner on a UH-1H helicopter.

The American Indian Veterans National Memorial has been a longtime dream of many American Indian veterans' groups. According to the Department of Defense, in 2010, 22,569 enlisted service members and 1,297 officers on active duty were of American Indian heritage. While 1.4 percent of the U.S. population is American Indian, 1.7 percent of the military is American Indian, making it the highest per-capita commitment of any ethnic population to defend the United States.

The project, designed by Scottsdale-based John Douglas Architects, is being funded by a gift from TriWest Healthcare Alliance. Construction services are provided by Kitchell Construction. The ceremony is funded by APS.

MEMORIAL COMPONENTS
The memorial is a permanent large-scale outdoor plaza located on the west-facing edge of the museum's gift shop next to the Berlin Gallery. It consists of sculptures by two Native artists, Chiricahua Apache sculptor Allan Houser (1914-1994) and Michael Naranjo (Santa Clara Pueblo), a Vietnam War veteran who suffered an injury that rendered him blind. Naranjo has been carving his meant-to-be-touched sculptures by feel ever since.

Several bronze-colored panels detail the story of American Indians in conflicts from the 17th century to the 21st century and pays tribute to American Indians who received the Medal of Honor, the nation's highest military decoration.

The panels' descriptions begin with these words:
"The story of American Indian Warriors begins before there was a United States of America, and the Warrior Tradition continues rich and strong today. Honoring Warrior leaders is also a tradition that is an integral part of the story. In this spirit, the Heard Museum joins with those who keep the honoring tradition and tell the stories of bravery and sacrifice."

A water feature will complete the memorial, which is designed to be a long-term exhibit at the Heard.

One panel contains a poem, "Do Not Stand at My Grave and Weep," written by Mary Elizabeth Frye in 1932 that has endured for 80 years. It has been translated into many languages and set to music by many composers. It has comforted people around the world and did so at a memorial service for Lori Piestewa. Her family offers it to the American Indian Veterans National Memorial:

Another panel contains a drawing and accompanying poem, "The Fear of Bo-talee," by author N. Scott Momaday (Kiowa), from his 1992 book, In the Presence of the Sun: Stories and Poems, 1961-1991.

OTHER SPEAKERS
Other speakers at the Nov. 14 ceremony include American Indian veterans George Blue Spruce Jr. (Ohkay Owingeh/Laguna Pueblo) and Wayne Mitchell (Dakota Sioux/Mandan), both members of the Heard Museum's Board of Trustees and of the museum's American Indian Advisory Committee. David J. McIntyre, president and CEO of TriWest Healthcare Alliance, will also make remarks, as well as Heard Museum Board of Trustees Chair Mark Bonsall and board Vice-Chair Lee Peterson, the museum's interim CEO.

Besides Blue Spruce and Mitchell, a third American Indian veteran serves on the Heard Museum Board of Trustees. Chris Deschene (Navajo), a U.S. Naval Academy graduate, served in the U.S. Marine Corps in several overseas tours to Southeast Asia and the Middle East in the 1990s before retiring with the rank of captain. Deschene was also the 2010 Democratic nominee for Arizona secretary of state.

The Heard is displaying Native Words, Native Warriors, a Smithsonian exhibit about the contributions of American Indians of several tribes whose use of their native languages enabled the United States to safely transmit military messages in World Wars I and II. With this exhibit is another, Navajo Code Talkers: Photographs by Kenji Kawano, a pictorial series documenting the lives of Navajo veterans who were World War II code talkers.