OCTOBER 8, 2012
Obituaries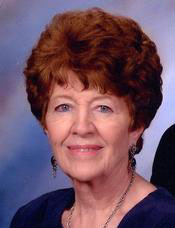 Darlene Frances Schmidt
October 22, 1932 – October 6, 2012

Darlene Frances Schmidt was born in Wheaton, Minn. to Lillian and Glen Renner on October 22, 1932.

She was received, upon baptism and confession of her faith in Christ, into membership in the First Presbyterian Church of Wheaton on March 29, 1945.

Darlene married Myron Duane Schmidt on June 17, 1952.

Darlene passed away early Saturday morning, October 6, 2012 at the Countryside Assisted Living Center in Rosholt, South Dakota. She was 79 years old.

Darlene is survived by her husband Myron of Wheaton, 4 children: Shari Jo (Don) Sorchych of Cave Creek, Arizona, Connie Schmidt (Jerry Henson) of San Diego, California, Michael (Christie) Schmidt of Glendale, Arizona, and Jana Loar of Highlands Ranch, Colorado, seven grandchildren: Jamie (Matthew) Borie, Eric Loar, Matthew Loar, Adam Loar, Jennifer Bach, Rachel Schmidt, Jacob Schmidt, one great-grandson: Noah Holliday.

Darlene was preceded in death by her parents and an infant sister.

Funeral Services for Darlene Schmidt of Wheaton will be held Tuesday, October 9, at 11 a.m. at St. John Lutheran Church in Wheaton. Visitation will be held for one hour prior to services at the church. Interment will be at Wildwood Cemetery in Wheaton.