MAY 3, 2011
New customs service expands Scottsdale Airport's international appeal
A new U.S. Customs and Border Protection program will expand Scottsdale Airport as an international destination for visitors and business travelers. While customs services were already available, international arrivals and departures were limited to specific countries.

The new service, called "US-VISIT," features advanced biometric identification techniques that will allow visitors from all over the world to fly in and out of Scottsdale, provided they have the proper visas.

"The new program really enhances the airport's appeal," says Gary Mascaro, Scottsdale's aviation director. "We already see lots of visitors from Canada and from Mexico, and expect that this expanded service will generate even more international activity at the airport. It's great, and we're thankful that U.S. Customs and Border Protection is bringing it here."

According to the U.S. Department of Homeland Security, the biometric services (which include digital fingerprinting and photographs) help prevent identity fraud and stop criminals and immigration violators from entering the United States. The technology also makes U.S. immigration and border management efforts more collaborative, more streamlined and more effective. U.S. Customs and Border protections services are available at Scottsdale Airport by appointment 24 hours per day, seven days per week. Normal hours of operation are Thursday through Monday, 9:00 a.m. to 5 p.m. Users requesting service outside of normal hours must pay an additional $225 user fee. To book an appointment with US Customs and Border protection, call 480-312-8483.

For more information about Scottsdale Airport, visit www.scottsdaleaz.gov/airport.
APRIL 29, 2011
"If Trees Could Talk"… about the day Arizona became a State Feb. 14, 1912
First Arizona Centennial Witness Tree dedicated is olive tree planted in 1896 by Winfield Scott in Scottsdale
SCOTTSDALE – The Arizona Centennial Commission (www.AZ100YEARS.org) in conjunction with the Arizona Community Tree Council (www.AZTrees.org) today dedicated the first Arizona Centennial Witness Tree, an olive tree planted by Chaplain Winfield Scott in 1896, in the area today known as 'Old Town Scottsdale.' Keep reading ...
APRIL 28, 2011
New USDA Rule encourages the purchase of local agricultural products for critical nutrition assistance programs
WASHINGTON – Today, Agriculture Under Secretary Kevin Concannon announced that USDA's child nutrition programs are implementing new rules designed to encourage use of local farm products in school meals. Keep reading...
APRIL 28, 2011
ADF battle against religious discrimination policies at public facilities marches past halfway point
More than half of 750-plus government-run facilities have changed policies as result of ADF letters sent nationwide
LEAWOOD, Kansas — An Alliance Defense Fund legal effort that sought to change unconstitutional meeting policies at more than 750 government-run facilities has succeeded in policy changes at more than half of those facilities. The problematic policies restrict or forbid access to public meeting rooms and other areas for religious purposes.
Keep reading...
BY LINDA BENTLEY | APRIL 27, 2011
May 14 marks Terry Lakin's homecoming event
Lakin placed his military career on the line to let America know the truth and the Constitution still matter
BALTIMORE, Md. – Terry Lakin is being released from federal prison in Ft. Leavenworth, Kans. in a little more than two weeks and will be arriving at the Baltimore Washington International Airport (BWI) at around 10:30 a.m. on May 14. Keep reading ...
BY LINDA BENTLEY | APRIL 27, 2011
The Overlook at Black Mountain recommended for approval
"We've embraced the town's criteria" for hillside development
CAVE CREEK – With all members present for the April 21 planning commission meeting, Planning Director Ian Cordwell announced, in addition to continuing its review of the zoning ordinance, there will be two zoning cases on the May 19 agenda. Keep reading ...
BY LINDA BENTLEY | APRIL 27, 2011
New life coming to the old Roadhouse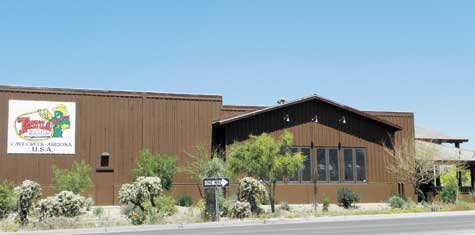 It looks like a deal has been struck by Harold Rothstein to lease the former home of Cave Creek Roadhouse and Hammerhead Jack's at 6900 E. Cave Creek Road from O'Toole Land LLC to open Tequila Roadhouse. Stay tuned …