MARCH 22, 2011
Cocaine and Meth dealer sentenced to 12 years
PHOENIX – Senior U.S. District Judge Stephen M. McNamee sentenced Rogelio Anton Perez on Tuesday to 12 years in the Bureau of Prisons. Perez, 30, of Culiacan, Sinaloa, Mexico, pleaded guilty to the charge of Conspiracy to Possess with Intent to Distribute Methamphetamine and Cocaine. Keep reading ...
MARCH 18, 2011
NRA, SCI, and CSF disavow misleading press release
On Thursday the National Rifle Association, Safari Club International and the Congressional Sportsmenís Foundation publicly disavowed a misleading press release distributed on Friday, March 11th to congressional offices and other outlets. Keep reading ...
MARCH 18, 2011
Candlelight vigil on five-year anniversary of murdered youth
PHOENIX – A candlelight vigil will be held to honor the memory of murdered gay youth Maurice Dupree Green, at 6:30 p.m. Monday, March 21, at Cielito Park, 3402 W. Campbell Ave. Green, also known as "Melissa," was fatally shot on March 21, 2006, as he walked northbound on 35th and Glenrosa avenues dressed as a woman. Keep reading ...
MARCH 17, 2011
EPA proposes first national standard for mercury pollution from power plants
"Mercury and Air Toxics Standards" represent one of strongest health protections from air pollution since passage of Clean Air Act

WASHINGTON– In response to a court deadline, today the U.S. Environmental Protection Agency (EPA) proposed the first-ever national standards for mercury, arsenic and other toxic air pollution from power plants. Keep Reading...

BY LINDA BENTLEY | MARCH 16, 2011
MCSO nabs serial Circle K robber
Suspect admitted to string of Circle K robberies in Phoenix and Tolleson
CAVE CREEK – Maricopa County sheriff's deputies S. Studzinski and K. Martinez pulled over a vehicle on Tuesday morning in the vicinity of Cave Creek Road and Carefree Highway that matched the description of the getaway car used in the Circle K robbery at 6802 E. Cave Creek Road and arrested Soldato Giganti, 43, and Stevi Clements, 23, at gunpoint.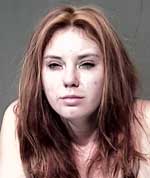 According to MCSO, Giganti entered the store, went behind the counter and loaded up a duffle bag with cigarettes and lottery tickets, while Clements waited outside in the car.

Deputies found evidence in the vehicle from Tuesday morning's robbery and have also linked Giganti to a total of 15 Circle K robberies throughout Phoenix and Tolleson.

Giganti, who has admitted to the robberies, was released from prison in May 2008 after serving two years of a three-year sentence for felony drug and burglary charges.
BY LINDA BENTLEY | MARCH 16, 2011
Local Bernese Mountain Dog wins
recognition at Westminster
CAVE CREEK – Briscoe, a 4-year-old, 125-pound Bernese Mountain Dog, may just be a pet to locals Rebecca and Michael Adams, but to his breeder and trainers, Carol and Roger Arbuthnot of Sapphires Bernese Mountain Dogs, he's become a great show dog, winning Best in Show at the Bernese Mountain Dog Club of Canada National Specialty and winning championships in Finland and Sweden. Keep Reading ...
BY LINDA BENTLEY | MARCH 16, 2011
Carefree Resort goes gay for the greater good
1in10 offers a 'safe environment for these kids so they can develop positive self-acceptance through life-enhancing programs'
CAREFREE – Bridlie Hospitality Management, Inc., headquartered in Houston, Texas, is managing the Carefree Resort & Conference Center. Keep reading ...
BY LINDA BENTLEY | MARCH 16, 2011
Boxing promoter balks at jail, granted continuance
'What started out as a bounced check … turned into a witch hunt perpetrated by some of Arizona's leading public officials'
PHOENIX – On March 11, Maricopa County Superior Court Judge Arthur Anderson granted Top Rank boxing promoter Peter McKinn a two-week continuance for sentencing to allow for a mitigation hearing. Keep Reading...