BY LINDA BENTLEY | MARCH 2, 2011
More twists in boxing promoter check fraud case
'There are circumstances here that give the court pause about the appropriateness of the plea'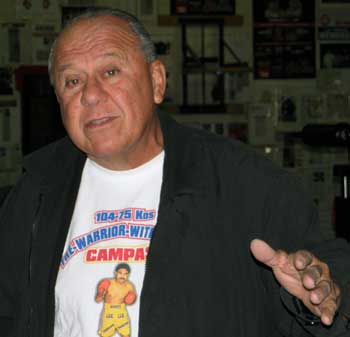 PHOENIX – On Feb. 3, visiting Pinal County Superior Court Judge Bradley M. Soos denied motions by Maricopa County Supervisor Mary Rose Wilcox and her husband Earl Wilcox to quash subpoenas issued by Attorney Edward Moriarity on behalf of boxing trainer Joe Diaz (r) and fighter Ramon "Yori Boy" Campas, victims of Top Rank Boxing promoter Peter McKinn's 2004 check fraud.

The very next day, Judge Michael Kemp, who had been presiding over the case since October 2010, recused himself and vacated McKinn's Feb. 7 sentencing hearing, scheduling a status conference instead before Judge Arthur Anderson, to whom the case was reassigned.

During that status conference, Anderson indicated he had some reading to do and said he would issue a follow-up minute entry.

On Feb. 11, Anderson directed the court reporter to prepare excerpts of the proceedings held on Feb. 7 for his review.

Then, on Feb. 23, Anderson issued a ruling in which he quashed the subpoenas for the non-party witnesses, which included former Boxing Commission Director John Montano, former acting County Attorney Rick Romley and the Wilcoxes.

Anderson also spelled out his knowledge of the case and pertinent issues involving the victims.

He noted Diaz and Campas filed a Victims' Objection to the Plea Agreement on Nov. 17, 2010, stated Kemp held a change of plea proceeding on Nov. 18, at which he reviewed the proffered plea with McKinn in the presence of Moriarity, and deferred the acceptance of the plea until sentencing on Feb. 4, 2011, which Kemp then continued to Feb. 7.

Anderson said it was understood by the court and counsel that the victims could present objections to the plea at that time.

His ruling outlined the indictment, which originally arose out of a bad $5,000 check written by McKinn to Diaz/Campas for the May 8, 2004 IBA light middleweight title fight between Campas and Anthony Shuler.

On Sept. 30, 2009 a Maricopa County Grand Jury indictment was filed against McKinn for five felony counts that included theft (class 3), fraudulent schemes and artifices (class 2), forgery (class 4), perjury (class 4) and conspiracy to commit theft (class 3).

On June 2, 2010, Gila County Attorney Daisy Flores filed a notice of appearance on behalf of the state due to a conflict with the Maricopa County Attorney's Office.

Anderson stated, "The victims essentially object to the plea because the offenses, as class 6 undesignated offenses, enable the defendant to earn misdemeanors. The undesignated offenses in the plea agreement were amended to theft, solicitation to commit forgery and solicitation to commit perjury."

Anderson stated Diaz and Campas have maintained the plea is "inappropriately lenient because during the last several years that the bad check claim was pending, McKinn and others committed crimes to cover up the initial offense, attempted to influence the filing of criminal charges and acted to destroy the victims' careers and reputations."

Quoting from the Victims Objection to the Plea, Anderson wrote, "The result of this plea, if accepted, is that the defendant committed a crime over six and a half years ago, then tried to prevent the crime from being charged, then manufactured a false story and forged evidence, then induced actors to commit perjury, induced actors in power to put pressure on the boxing commission, a judge, and the county attorney's office, and got the charges dismissed."



Joe Diaz Top Level Boxing Gym in downtown Phoenix is a living museum of Diaz's life and career, along with that of his champion fighter Ramon "Yory Boy" Campas. Diaz and Campas are victims of Top Rank Boxing promoter Peter McKinn's fraudulent scheme to defraud them out of more than $5,000.

Photos by Linda Bentley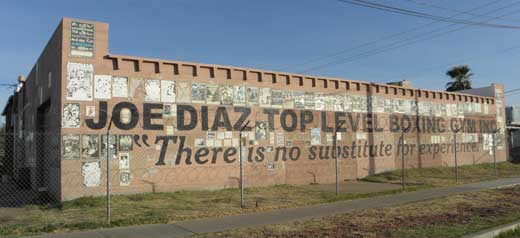 Moriarity stated in his brief, "In these six and a half years the reputations of the victims and their business careers have been willfully, wantonly and intentionally destroyed by the defendant and his co-conspirators and co-actors. The damage to the victims is irreparable and it is unfair to permit the defendant to walk."

Anderson acknowledged "the victims' anger toward Mckinn, the frustration over the time it took to obtain an indictment, the perceived vindictive intervention of boxing officials (and others) in this case and in their boxing careers."

While he stated he did not find the presentence report prejudicial and did not believe the plea was inappropriate to the extent it should be set aside, Anderson also said, "There are circumstances here that give the court pause about the appropriateness of the plea. McKinn acted deliberately to avoid responsibility for passing a bad check. He involved others in criminal activity that occurred over a significant period of time (May 8, 2004 to Sept. 20, 2009). The victims have repeatedly indicated how McKinn's actions have affected their bank accounts, personal lives and livelihoods."

He countered their objections with the state's argument that the three charges in the plea agreement reflect the scope of McKinn's criminal activity while noting McKinn has no prior felony convictions.

However, Anderson said, "The Defendant will be punished for a variety of crimes and monitored by the probation department, each count will be considered a felony until designated otherwise by the court. McKinn has exposure for felony convictions and prison if he fails to comply with his probation terms, and restitution in excess of the $5,000 check amount is available."

Anderson addressed victim's rights statute and stated, "The right of the victim to confer with the prosecuting attorney does not include the authority to direct the prosecution in this case."

He said, "Here, the state heard the victims' objection to the plea, it just didn't agree with their position."

Citing a 1987 Arizona Court of Appeals case, Anderson stated the parties could not bind the court to a specific period of probation (three years), and said, "The court will reject this provision at sentencing and exercise its discretion regarding the length of probation and other terms."

Stating the "purported testimony of the non-party witnesses is either irrelevant to issue of the appropriateness of the plea or otherwise moot," Anderson ordered the four non-party witness subpoenas quashed, overruled the Victims Objection to the Plea and denied McKinn's request for an amended Presentence Report.