BY LINDA BENTLEY | FEBRUARY 16, 2011
Rancher to seek Ninth Circuit panel rehearing
'We wanted a jury instruction on self-defense'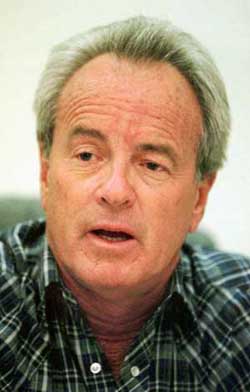 SAN FRANCISCO – On Feb. 4, a Ninth Circuit Court of Appeals panel upheld an Arizona U.S. District Court jury verdict against rancher Roger Barnett that found in favor of illegal aliens who sued Barnett for "assault and intentional infliction of emotional distress."

The jury awarded the plaintiffs compensatory, nominal and punitive damages, which with interest, is now approximately $78,000.

Barnett argued on appeal that U.S. District Court Judge John Roll, who was murdered in Tucson during the shooting rampage that also injured Rep. Gabrielle Giffords, erred by denying Barnett's proposed jury instruction on self-defense.

The Ninth Circuit panel disagreed and quoted Arizona statute, which states "a person is justified in threatening or using physical force against another when and to the extent a reasonable person would believe that physical force is immediately necessary to protect himself against the other's use or attempted use of unlawful physical force."

However, according to Barnett's Attorney David T. Hardy, the FBI, on more than one occasion, has notified Barnett, whose Cross Rail Ranch is located near Douglas along the Arizona-Mexico border, that his life was endangered and Barnett holstered his weapon once he determined the illegal aliens were not armed and not a threat.

In fact, when border patrol agents arrived, Barnett's gun was already holstered.

Barnett, fed up with having his property destroyed, calves killed and his home broken into by illegal aliens, drug and human smugglers, has turned over approximately 12,000 illegal aliens encountered on his property to the border patrol since 1998.

The illegal alien plaintiffs were represented by the Mexican American Legal Defense and Education Fund (MALDEF).

One of the original plaintiffs was a previously deported convicted drug offender who failed to show up for the trial.

MALDEF's Southwest Regional Counsel David Hinojosa, who represented the illegal aliens in the case stated, "We are very pleased with the Ninth Circuit's verdict. Today's ruling sends a strong message that vigilantes will not be tolerated in Arizona."

Blogger Don Crosswhite, who joined the Army in 2007, calls Barnett an American hero and posted the comment, "You know in the Army they teach us to go at the enemy. The group that is representing these criminals should be tried for treason," referencing MALDEF.

MALDEF Director of Litigation Nina Perales stated, "We are pleased to have secured some justice for our clients and to have preserved the ruling in a case in which Chief Judge Roll served so ably and fairly."

Plaintiffs argued Barnett's conduct caused them "severe emotional distress" and the jury heard testimony from each, who stated they suffered from "ongoing anxiety, depression and insomnia" as a result of Barnett's actions.

Additionally the panel pointed out a psychological expert diagnosed three of the four appellees with post-traumatic stress disorder and other emotional disorders, which it deemed sufficient to sustain the jury's intentional infliction of emotional distress verdict under Arizona law.

In Barnett's appeal, he argued his wife Barbara, a prevailing defendant in the case, is entitled to attorney's fees and costs.

However, the court stated a defendant is only entitled to fees if the plaintiff's action was "frivolous, unreasonable or without foundation."

The court said it concluded there was evidence to support the claims against Barbara Barnett, even though the plaintiffs did not ultimately prevail on those claims.

In affirming the jury's verdict, the court stated, "We have reviewed appellant's remaining arguments and conclude that they are without merit."

A party may seek a panel rehearing if a material point of fact or law was overlooked in the decision, a change in the law occurred after the case was submitted which appears to be overlooked by the panel, or an apparent conflict with another decision of the court was not addressed in the opinion.

The court cautions, however, "Do not file a petition for panel rehearing merely to reargue the case."

In its ruling, the Ninth Circuit panel noted, "This disposition is not appropriate for publication and is not precedent …" which Hardy says can be problematic in that it can lead to courts issuing inconsistent rulings.

Barnett has until Feb. 17 to petition the court for a panel rehearing, which Hardy said they would file.