FEBRUARY 9, 2011
Foothills Animal Rescue sets record for adoptions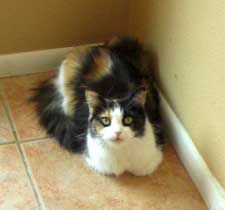 Chaco, Buddy (pictured) and Captain Purrfect were three of the 60 dogs and cats that found new homes during a record setting January for Foothills Animal Rescue (FAR).

FAR Executive Director Linda Fitch said, "We have seen steady growth in adoptions and visits to our resale boutique since we opened our new facility last spring. Our dog adoptions are up over 250 percent from last January and cat adoptions are up over 100 percent."

In January FAR rescued 28 dogs from the euthanasia list at Maricopa County Animal Care and Control. "Every pet we find a new home for, makes room for another dog or cat we can save from certain death," said Fitch.

FAR typically has 10-15 dogs and over 150 cats available for adoption at their cage free shelter located at 23030 N. Pima Rd., Scottsdale. Pets available for adoption, hours and contact information can be found at www.foothillsanimal.org.