FEBRUARY 9, 2011
Celebrate the Old West with Parada del Sol activities
Scottsdale Road section closed Saturday for parade
SCOTTSDALE – The Old West comes to life this week in Scottsdale – and everyone can be a part of it.

Scottsdale Mayor W. J. "Jim" Lane is inviting citizens to dust off their Stetsons and wrangle up some blue jeans for "Wear Western Wednesdays" through February. It's all part of Scottsdale's annual Parada del Sol celebration.

The celebration really gets rolling at noon Friday, Feb. 11, when the hard-riding Hashknife Pony Express delivers the mail in front of Downtown Scottsdale's "Passing the Legacy" sculpture.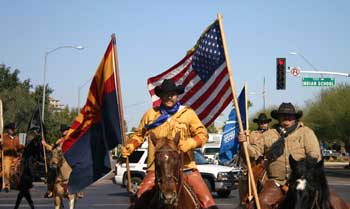 The Hashknife's elite group of riders has thundered into Scottsdale each winter for more than 50 years, concluding an annual 200-mile journey through the Arizona outback. It's the oldest officially sanctioned Pony Express delivery in the world.

The public is invited to take part in this free, colorful tradition. The "Passing the Legacy" sculpture is located on the north end of the Marshall Way Bridge. Parking is available at the nearby Nordstrom's parking garage.

The Hashknife's arrival sets the stage for the Parada del Sol Parade along Scottsdale Road between Oak Street and Indian School Road. The "world's largest horsedrawn parade" starts at 10 a.m. Saturday, Feb. 12, and features floats, horses, bands and tons of cowboy fun!

More fun follows the parade in Old Town Scottsdale with the Trails End Celebration, a free festival that includes dancing, entertainment and kids' activities.

To accommodate the parade, Scottsdale Road from Camelback to McDowell roads will be closed from 6 a.m. to 2 p.m. Saturday. Indian School Road also will be closed during those times from Scottsdale Road to 75th Street.

For more Parada activity details including the rodeo at WestWorld March 4-6, call 480-990-3179 or visit www.paradadelsol.us.

Photo courtesy Hashknife Pony Express