BY PETE MOHR | FEBRUARY 3, 2011
Soccers advance to Saturday's Quarterfinals; Girls rout Prescott, 6-0; Boys "freeze" Independence, 1-0
REACH 11 - Feb. 1 & 2. Greater fandom hath no sportswriter than he endure two hours of nighttime mid-30s (brrr!) to watch Head Coach Tony Vos's Falcons move on to Saturday's Quarterfinals by riding an early 1st half goal by junior Dylan Hartman (alertly rebounding freshman Nick Jackson's shot) and a late sensational save by senior goalkeeper CaseyDeBusk to shut out the Indepen- dence Patriots, 1-0, Wednesday evening, Feb. 2. The "Snow Bunnies" (er, the LadyFalcons) were there as a squad to cheer on the Guys. I like your spirit, Gals! Keep Reading...
BY PETE MOHR | FEBRUARY 2, 2011
Cheer vying for 6th straight! "Spirit Line" out to regain title
CSHS – If you want to treat yourself to an upbeat afternoon and evening like no other, head on up to this Saturday's Arizona Inter-scholastic Association's "Spirit Line Championships" at Tim's Toyota Center in Prescott Valley. Keep reading...
BY PETE MOHR | FEBRUARY 2, 2011
'4th Period Kids' do it again!
CSHS – Postgame on Jan. 28, Coach Tyler Dummett, rhetorically, to this sportswriter: "How 'bout those '4th Period Kids'?" For the second consecutive Friday night his young Falcons had rallied late in the 4th period, this time, to beat the Queen Creek Bulldogs, 65-61, solidifying the Falcs' 2nd place standing in Desert Sky Region. Keep reading ...
BY PETE MOHR | FEBRUARY 2, 2011
Soccer seniors (and parents!)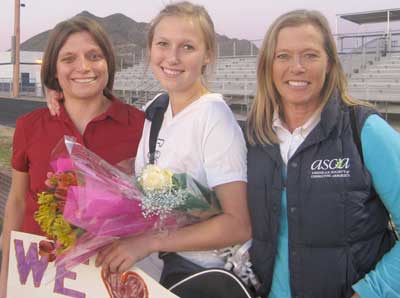 Co-Captain Tiffini Maitland (center, with mother, Sarah Maitland, and older sister, Lisa Galluzzo) led her eight senior teammates at "Senior Night" presentation, late Wednesday afternoon, Jan. 26.

They are, in alphabetical order, with proud parents in parentheses: Kate Accola (Gina and Paul Accola); Michelle Jouas (Sharon and Paul Jouas); Lauren Lazo (Pam and Mark Lazo); Taryn McClendon (Randi and Donnell McClendon); Kylie Orlando (J.J. Morris and Dave Orlando); Bethany Park (Cheryl and Bart Park); Tali Reisman (Jane Bassler and David Reisman); Kylee Smith (Diana and Patrick Smith).

Hail to you nine '11s – and to your "Soccer Moms" and Dads!