BY PETE MOHR | JANUARY 27, 2011
Soccer Gals blank Saguaro, 6-0, to nab "last" Desert Sky Title
Bethany Park (2), Brenna Leech (1), Lauren Lazo (3) account for 6-goal winning outburst in 2nd half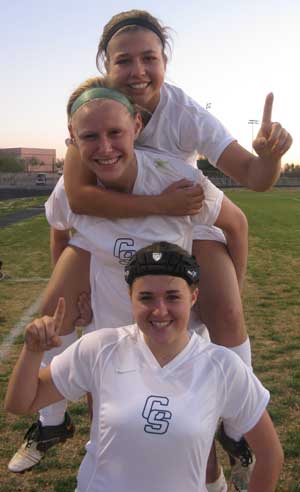 "HEAVY LIFTING!" That's senior Lauren Lazo (2nd half "hat trick" [three goals]) carrying senior teammate Bethany Park (first two CSHS goals). Junior Brenna Leech (first Varsity goal) opted for the more sedate sit-down! Photos by Pete Mohr

FALCON STADIUM – Pick your "storyline" from the Lady Falcons' regular season finale on Jan. 26:

• Their 6-0 shutout over the Saguaro Lady Sabercats to finish a perfect 7-0 in Region, thereby crowning the LadyBirds as the "last" Desert Sky champions. (As mandated by the A.I.A.'s restructuring of high school competition, Regions will disappear at the end of the current school year)

• "Senior Night," honoring nine Class of 2011 players. Lots of hugs, kisses and flowers to celebrate, with rightful parental pride, for their daughters' careers as varsity Lady Falcons

• Senior forward Bethany Park scoring two goals in the first six minutes of the 2nd half to break a b-o-r-i-n-g 0-0 deadlock

• From a goal mouth melee, versatile junior Brenna Leech kicking in her first varsity goal

• Capping her first regular season as a Lady Falcon, dominant center midfielder Lauren Lazo notching the last three CSHS goals, sending several ballcaps into the air and onto the track to hail her "hat trick."

Postgame, Head Coach Jeff Vittorio to Sonoran News: "Now our second season begins." He's looking ahead to his squad's 1st round game of the State Tournament (Playoffs, if you prefer) Tuesday, Feb.1, at Reach 11 Sports Complex, Deer Valley Road, east of Cave Creek Road.

On Saturday, Jan. 29, go to aiaonline.org for opponent and start time.

Congratulations to Coach Vittorio and his Lady Falcons. "Four more wins! Four more wins!" And the State Championship will be theirs.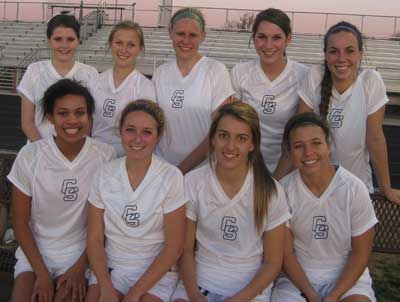 "SENIOR NIGHT" HONOREES: (front, l- r) Taryn McClendon, Tali Reisman, Michelle Jouas, Bethany Park; (back, l-r) Kylee Smith, Co-Captain Tiffini Maitland, Lauren Lazo, Kate Accola, Kylie Orlando – Class of 2011. Good luck at State!