BY PETE MOHR | JANUARY 26, 2011
Hoop Gals stumble at Campo Verde; 'get well' at home vs. Poston, 59-31
If the Lady Falcons can hold on to their #2 Spot in Desert Sky, they'll make State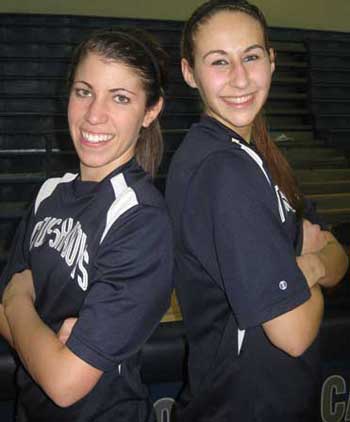 "The get-well Girls!" Rachel Manak (l) and K.P. (Kaylee Paciora) scored 18 and 12 points, respectively, as the Lady Falcons bounced back from a near-disaster at Campo Verde, Jan. 21, to break-and-saddle the Poston Butte Lady Broncos, 59-31, at CSHS, Tuesday night, Jan. 25.
Photo by Pete Mohr

CSHS – After Monday's practice, Head Coach Ryan Pletnick to Sonoran News on his squad's Jan. 21 road loss to "newcomer" Campo Verde, 37-41: "I was sick to my stomach! Up by three points with three minutes left in the game, and we couldn't finish. We've got to learn how to play with urgency; because from here on in, for us to make the State Playoffs, it's do-or-die."

So the LadyBirds came home and "did" against Poston Butte, another "newbie." A relieved Coach Ryan: "In the first quarter, the girls played like a bunch of (ticked off) javelinas!" Rachel Manak scored 11 of her game-high points in the opening period: CSHS, 23 - Poston, 5! It was 35-7 at the half; 50-20 at the end of three; then on cruise control to the "get well" 59-31 final. K.P. (Kaylee Paciora), with 12, was the only other Lady Falcon in double figures.

Five games left in regular season: at Queen Creek (Friday, Jan. 28); home vs. Saguaro (Tuesday, Feb. 1); at McClintock (Thursday, Feb. 3); home vs. Notre Dame (Tuesday, Feb. 8); and Senior Night vs. Campo Verde (Thursday, Feb. 10). I predict the Ladies will go 4-1, making State for the seventh consecutive season.

C'mon, LadyBirds! You can "do" it!