BY PETE MOHR | JANUARY 12, 2011
Hoop Guys mauled at home by Sabercats (Jan. 7); fall apart in OT at McClintock (Jan. 11)
CSHS – "Friday Night Fever" – basketball style. Barrett Gym was jumpin'! "Birds Nest" was rockin' for unbeaten (in regular season) #7 Falcons hosting #9 Saguaro Sabercats: Co-Captains Max Gersh (l) and Casey Perrin to center court for pregame instructions. Keep reading ...
BY PETE MOHR | JANUARY 12, 2011
CSHS Wrestling making quiet progress
Coach Florez sees 40-member squad in 2011-2012
When you see/hear the energy and spirit at a Falcon wrestling practice, you know first-year Coach Richard Florez has his squad headed in a positive direction. Keep reading ...
BY PETE MOHR | JANUARY 12, 2011
Ladies win big at Saguaro
Stumble at home vs. McClintock
CSHS – With momentum from their big 56-22 win at Saguaro, Friday evening, Jan. 7, Coach Ryan Pletnick's LadyFalcons had McClintock right where they wanted 'em: coming in to Barrett (Blue) Gym, Tuesday evening, Jan. 11. But the taller, more physical LadyChargers led, 37-35, in the final 1:30 of regulation.

Two clutch free throws by soph Dani Zalewski pulled the LadyBirds even, but they couldn't get a "last shot" opportunity to go down.

Overtime time! In OT, the HomeGals went cold at the free throw line, allowing the Lady Chargers to capture a 43-40 Region victory.

Tuesday morning's A.I.A. Power Points rankings have the Lady Falcons at #14, needing to stay in the top 16 teams for State Playoffs eligibility. The Ladies should win their next six games before a rematch at McClintock, Thursday, Feb. 3. Next home games: A.J., Friday, Jan. 14, followed by Poston Butte, Tuesday, Jan. 25. C'mon, Gals! Hang in there!
BY PETE MOHR | JANUARY 12, 2011
Soccer's gaining momentum for state; get "statement" wins over Campo Verde
#6 Boys host Q-Creek, Jan. 13; #4 Girls, at home, Jan. 14, challenge #1 Sunrise Mountain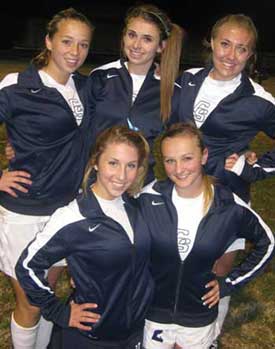 Sizzling Sophs plus two Juniors: Coach Jeff Vittorio terms them his Sizzling Sophomores: (Back row, l-r) Kelli Reid, Sage Larson, Katelyn Mardeusz; (front) juniors Co-Capt. Saige Williams (l), Ashley Butcher. Mardeusz, Williams and Butcher each scored two goals in the 11-0 Jan. 5 home rout of Shadow Mountain. Photos by Pete Mohr

This sportswriter doesn't believe in jinxes, be they "Sports Illustrated" covers – or otherwise. And Sonoran News Editor and Publisher Don Sorchych has long encouraged me to be more aggressive, so here goes: I predict Coach Jeff Vittorio's LadyFalcons and Coach Tony Vos's Soccer Guys will be State Semifinalists, at least, come early February. Can either (or both) play for their respective State Championships? Absolutely!

On the road at previously undefeated Campo Verde, Friday, Jan. 7, the LadyBirds gave up the first goal, then fought back to a 3-1 halftime lead on goals by Katelyn Mardeusz, Bethany Page and Kylie Orlando.

In the 2nd half, the Lady Coyotes got a PK goal before Mardeusz's second tally made it 4-2. Goalkeeper Kate Accola came up with a great save on Campo Verde's second PK try, and the HomeGals held on for the eventual 4-3 "character building" (Coach Vittorio) win, despite a concussion that took out junior defender Brenna Leech.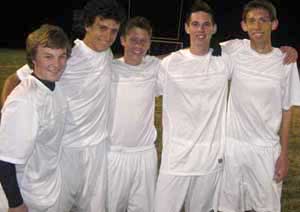 Coach Vittorio will need (and expects) both Leech and standout senior forward Taryn McClendon (strained quad) back in action when #1 Sunrise Mountain comes calling, Friday, Jan. 14. Coach Vittorio: "Sunrise Mountain is the strongest team we'll face in regular season." How 'bout a big home crowd to root on the LadyBirds?

Soccer Guys and Gals, keep rollin'!

Their decisive 5-1 home win vs. Campo Verde, Jan. 6, should put Soccer Guys on the "recognition" radar. (l-r) freshman Nick Hammer (first two goals), senior Nick Miller (goal #3), junior Corbin Gruber (goal #4) and strong defenders seniors Matt Ullendahl and Tyler McKinney keyed what Coach Tony Vos praised as "a huge win for us!"