JANUARY 5, 2011
A Touch of the Desert, a hands-on experience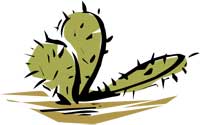 A Touch of the Desert is presented by The Desert Awareness Committee of the Foothills Community Foundation on Thursday, Jan. 20 from 6:30 – 8 p.m. Bring the whole family!

Look inside saguaros, identify desert predators and taste desert edibles. Try your hand at sandpainting. Learn about desert medicines, examine archaeology artifacts, identify Black Mountain rocks and analyze desert plants.

The free program will be held at the FCF Holland Community Center, 34250 N. 60th St. (next to the Y).

JANUARY 5, 2011
January meeting of Desert Foothills Chapter of the Arizona Archaeological Society
The Desert Foothills Chapter of the Arizona Archaeological Society is pleased to present Deni Seymour, an Apache historian, speaking on "Geronimo's Wikiup" at our regular meeting on Monday, Jan. 12 at The Good Shepherd of the Hills (Community Building), 6502 E. Cave Creek Rd. in Cave Creek. Chatting, book sales, and refreshments at 7 p.m., meeting: at 7:30 p.m.
JANUARY 5, 2011
January Desert Foothills Astronomy Club Meeting on "Astrophotography Magic"
The Desert Foothills Astronomy Club presents Dennis Young, Sedona resident and professional astrophotographer. Young specializes in nature-based astrophotography, blending Earth and Sky. He'll show many examples of his work and explain how he works his magic.

The meeting will be at North Valley Regional Library in Anthem, Classroom 2, Wednesday, Jan 19. Doors open at 6 p.m., meeting starts at 6:30, ends at 8:30. For maps and more information, visit www.dfacaz.org.

This is a free event. The North Valley Library is handicapped accessible. All are welcome.