DECEMBER 29, 2010
Welcome the New Year with family and friends
With the New Year almost upon us, here are two easy, but superb dip recipes to serve with your favorite tortilla chips or scoops. The first one is served hot, the second cold. Choose which to offer your New Year's Eve or New Year's Day guests!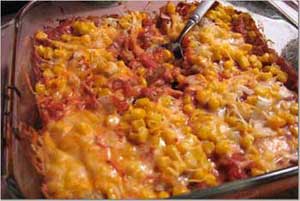 Baked Mexican Dip

Ingredients:
2 cans (10 oz. size) bean dip
1 pound ground chuck
1 package taco mix
1 cup shredded Monterey Cheese
1 can chopped green chilies
1 cup shredded Cheddar Cheese
4 tablespoons hot taco sauce
1/4 cup chopped green onions
1 can black olives sliced
1/2 cup finely chopped tomatoes
Sour Cream
Guacamole
Tortilla Chips

Directions:
Spread the bean dip in the bottom of a 9 x 13 inch pan. Cook ground beef with taco mix as directed on package. Spread over bean dip. Top with Monterey Cheese. Spread chilies over cheese. (to taste) Sprinkle taco sauce over chilies. Layer Cheddar cheese. Bake at 350F for 30 minutes.

Cool slightly, add olives, green onion and tomatoes. Serve with chips, and sour cream and guacamole as garnish.

Visit www.CDKitchen.com.
Grandma Annette's Favorite 7 Layer Taco Dip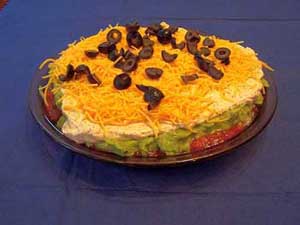 Ingredients:
2 cans bean dip
   (Fritos' is my favorite)
3-4 avocados
2 Tbs. lemon juice
1 1/2 C. sour cream
1/2 C. mayonnaise
1 pkg. taco seasoning
2-3 tomatoes, seeded and chopped
1 bunch green onions, chopped
1 small can black olives, sliced
Shredded cheddar cheese

Directions:
Pit avocados, mix with lemon juice and set aside. Combine sour cream, mayonnaise and taco seasoning until well-blended. Layer ingredients starting with bean dip, then avocado, taco seasoning-mayo mixture, tomatoes, green onions, olives and finish off with cheddar cheese on top. This works best if you use a platter with a lip so the dip doesn't slide.

Visit www.recipe4living.com.