DECEMBER 15, 2010
Desert Foothills Community Association receives award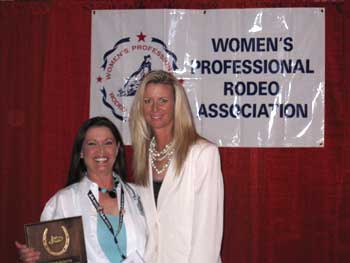 The Desert Foothills Community Association (DFCA) received a 2010 WPRA Star Award in Las Vegas, Nev. on Dec. 2, 2010. The WPRA (Women's Professional Rodeo Association) gives awards in the following categories: WFNR Top 15 Barrel Racers, Justin Best Footing Winners, and the WPRA Committee and Contract Personnel.

The DFCA was awarded a 3rd Place Justin Best Footing Award for the Cave Creek Fiesta Days Rodeo in April 2010 under the Turquoise Circuit category. Third place winners receive a plaque along with a $350 cash award! Traci Casale, DFCA Vice President of Sales and Marketing, accepted the award while attending the PRCA National Convention and the National Finals Rodeo (NFR) in Las Vegas. Traci had the honor of taking a picture with Sherry Cervi, the 2010 WPRA #1 ranked Barrel Racer from Marana, Ariz.

WPRA members vote on all awards and the DFCA is extremely proud to be named in the Justin Best Footing category. The DFCA would like to recognize Rusty Read, Vice-President of Grounds and Operations and his grounds crew for bringing the arena up to "award winning" condition!

DECEMBER 15, 2010
Exercising with your pet
Modern times have promoted lack of activity due to the busy schedules people lead. In order for people to live healthy, well-balanced lives they need to stay active with an exercise routine. The same is true for pets as they continue to naturally become more sedentary than their predecessors. According to the Association for Pet Obesity Prevention about half of the nation's pets are considered overweight. This is why exercise with your pet is more critical than ever before.

"Any activity with your pet helps encourage the human-animal bond that people have with their pets," explains David Sessum, registered veterinary technician and rehabilitation specialist at the Texas A&M College of Veterinary Medicine & Biomedical Sciences. "Regular activity helps promote a healthy lifestyle in both the owner and the animal."

The benefits of exercise are outstanding and well worth the time for you and your pet. Not only can exercise improve your pet's health; it may also alleviate some of its nervous energy which can help in many factors.

Sessum notes that any type of pet can exercise. Exercise can be tailored to the specific breed. For example, Labrador retrievers were bred to retrieve so a game of fetch can provide a healthy exercise as well as satisfy the dog's instinctual desires.

"With dogs, simply taking them for a walk on a regular basis is beneficial," explains Sessum. "With cats, enrichment activities such as playing with toys like a small ball or a string can promote a healthy lifestyle. Pocket pets, such as gerbils, can be placed in an exercise ball and allowed to roll around for a good workout."

It is important to take precautions prior to starting any exercise with your pet. Make sure that your pet does not overdo it. Also, the more active your pet is the more water it will need. Just like people, pets need to stay hydrated after a strenuous exercise.

"With dogs, an owner playing fetch in extreme weather conditions can lead to injury or illness for the owner and the dog," said Sessum. "Problems occur when owners try to force exercise on their pet. If a pet is accustomed to a sedentary lifestyle, or lying around all day, forcing them to exercise can lead to injury or serious health problems."

If you are concerned with your pet's health and are not sure if it is fit enough to start an exercise program, it may be best to consult with a clinician so they can perform a wellness exam.

"The wellness exam can also include a body condition score to assess if a pet is a healthy weight," explains Sessum. "If a pet needs to lose weight, a weight reduction program can be started. If a pet has a known orthopedic or neurologic condition, a consultation with a clinician can help prescribe specific exercises to help improve strength and also evaluate a pet's pain level and prescribe pain medication if needed."

Keep in mind to try to make exercise fun. If you approach exercise as play time, your pet will be more receptive to the idea.

Exercise can help you look, feel, and be your best. When you partner exercise with your pet, the effects are most visible for the both of you.

The Texas A&M Veterinary Medical Teaching Hospital offers a rehabilitation service for pets that need exercise or rehabilitation from an injury. For more information on rehabilitation or sports medicine, please call 979-845-2351 or find them on Facebook at Veterinary Sports Medicine and Rehabilitation.

Pet Talk is a service of the College of Veterinary Medicine & Biomedical Sciences, Texas A&M University. Stories can be viewed on the web at tamunews.tamu.edu.