NOVEMBER 24, 2010
Let it snow!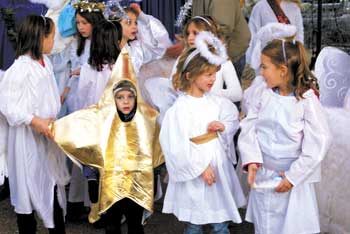 The 3rd Annual Carefree Christmas Festival offers a full weekend of holiday entertainment with real snow in the Sonoran Desert! All three days are packed with family entertainment and fun with these featured events:

Friday Night – Live Holiday Music and Late Night Shopping
Saturday – Electric Light Parade and Fireworks
Sunday – Pet Extravaganza
The Festival runs from Friday, Dec. 10 through Sunday, Dec. 12. Hours are from 10 a.m. – 9 p.m. on Friday and Saturday, and from 8 a.m. – 5 p.m. on Sunday. All events take place along Easy Street in downtown Carefree. For a full schedule of events and information visit www.CarefreeChristmasFestival.com.
NOVEMBER 24, 2010
It's a 'Cowboy Christmas' at Cave Creek Museum!

Children's program Sunday, Dec. 5
CAVE CREEK – Cave Creek Museum is ringing in the holiday spirit this December by hosting a special children's program, "Cowboy Christmas," on Sunday, Dec. 5 at the Museum.
Located at 6140 Skyline Dr., Cave Creek Museum features an extensive collection of prehistoric and historic artifacts that describe the lives of Native Americans, miners, ranchers and pioneers.

The museum hours are Wed., Thurs., Sat. and Sun. from 1 p.m. to 4:30 p.m., and Fri. from 10 a.m. to 4:30 p.m. Entrance fees are $5 for adults; $3 for seniors; and $2 for students. Children 12 and under are free.

The December event schedule follows:
• Sunday, Dec. 5: 4th Annual
• "Cowboy Christmas"
Children's Program
• 1:30 to 3:30 p.m.
• FREE family-friendly event

Kick off the holiday season this year with lots of family fun at Cave Creek Museum's "Cowboy Christmas." Make some special Western-themed crafts, like a rope wreath and cowboy hat ornament. "Brand" your own bandana. "Tip" some cows. Play some horseshoes. Saddle a wooden steed to ride in Cave Creek Museum's hobby horse obstacle races for both kids AND adults. Finally, singing cowboy Gary Sprague and his own talented mount, Dusty, return to entertain visitors with holiday poetry, stories, and songs. This is a free family event, but reservations are required. Space is limited. Register by calling 480-488-2764. Cave Creek Museum is located at 6140 E. Skyline Drive in Cave Creek. For more information, visit www.cavecreekmuseum.org.

• Throughout December:
Cave Creek Museum wants to hear about your holiday traditions. What foods are your favorites during the holidays? Do you open your presents on Christmas Eve or wait to open them all on Christmas Day? If you celebrate Hanukkah, do you exchange gifts each night or just on the first night? Check Cave Creek Museum's web site at www.CaveCreekMuseum.org for details regarding how to share your holiday tradition.

For the best holiday gifts, be sure to visit Cave Creek Museum's tax-free Museum Shop, where you will find a variety of gifts, Indian arts, and a wide selection of books on the Southwest.

For information about Cave Creek Museum and its programs or to donate call 480-488-2764 or visit www.cavecreekmuseum.org.