NOVEMBER 3, 2010
Real snow in the Sonoran Desert!
Third Annual Christmas Festival in Downtown Carefree, Friday, Dec. 10 through Sunday, Dec. 12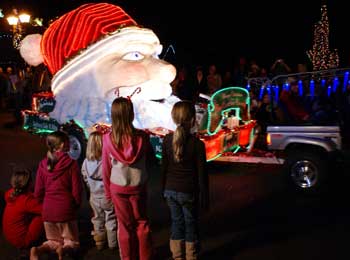 CAREFREE – Imagine an entire Arizona community located in the high Sonoran Desert, magically transformed into a holiday winter wonderland. Then mark your calendars for the 3rd annual Carefree Christmas Festival taking place along Easy Street in downtown Carefree, Arizona on Fri., Dec. 10 through Sun., Dec. 12.
Keep reading ...

NOVEMBER 3, 2010
Make your plans now for three popular Scottsdale holiday celebrations


Holiday Harmony celebration is Dec. 11
Holiday Harmony, Scottsdale's annual holiday tree-lighting celebration, takes place from 3:30 to 6:30 p.m., Dec. 11 on the Civic Center Mall. This free, family-friendly festival features live performances, interactive booths and lots more – including a visit from Santa, music, and even snow, so bring your coats and mittens! The event is capped off by the Mayor's tree-lighting at 6:15 p.m. For more information call 480-312-0217 or e-mail dmiller@scottsdaleaz.gov.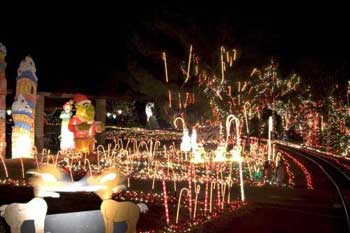 Holiday Lights start Dec. 10 at McCormick-Stillman Railroad Park
More than 100,000 lights will adorn trees and displays during McCormick-Stillman Railroad Park's Holiday Lights event. Festivities kick off at 6:30 p.m. Dec. 10, with a tree lighting, entertainment and a visit from a special guest – Santa! Holiday Lights runs from 6:30 to 9 p.m. through Jan. 1, excluding Dec. 24, 25 and 31. Santa will be there nightly through Dec. 23. For more information call 480-312-2312.

Pinnacle Peak Park hosts its popular Jingle Hike Dec. 11
Enjoy a hike and a trail-side visit with Santa himself as Pinnacle Peak Park hosts its Jingle Hike Dec. 11. This hike is a self-paced one-mile round trip; the trail is steep in several sections so little legs may need extra time. There are no strollers or bikes allowed. A nature craft activity will be provided at the trail head. Four hiking times are available at half-hour intervals beginning at 9 a.m. Registration is required and can be made by visiting http://Recreation.ScottsdaleAZ.gov. A single registration fee covers the cost of an entire family. The fee is $11 for residents and $17 for non-residents. For more information call 480-312-0990.