BY MARIELLE MARNE | OCTOBER 13, 2010
Valerie's Furniture offers fantastic furniture and awesome accents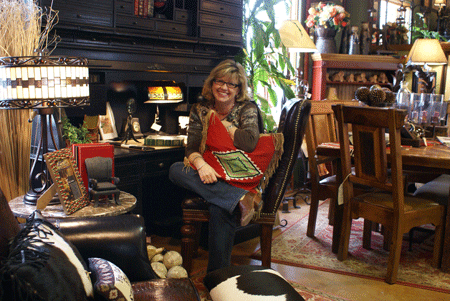 CAVE CREEK – Sometimes locals overlook really great places right in their own backyards. For instance, take Valerie's Furniture & Accents; proprietress Valerie Watters said after being open for eight years in Cave Creek, neighbors still happen in for the first time.

If you haven't been in or you've not stopped by for a while, you're in for a treat. Watters is always getting deliveries and changing things up. Her store, the decorating industry, it's her passion and it shows. Up at 5 a.m., she's perusing furniture magazines and deciding which new trend she'll be introducing first. "It's interesting," she opined, "that interior design follows the fashion industry. We'll see colors come out in clothes and then swatches for couches and drapes follow."

In this trying economy when a major remodel may be unaffordable for some folks, the perfect solution to update the home may be new furniture or a nifty accent piece. At Valerie's, it's all about customization. "We can do any piece in any color, size, fabric and budget," Watters assured.

Everyone on staff at Valerie's shares her enthusiasm. It's all about above and beyond customer service. "We want you to be a customer for life," Watters explained. If in the unlikely event a patron isn't satisfied with a purchase or it fails to meet expectations, Watters wants to know and will do everything she can to make it right. It's that dedication to excellence that has earned her a loyal following.

You've missed a retail treasure if you've not been in. Valerie's carries everything for the home from couches to beds, and cuddle chairs that serve as both!, to pillows and lamps. (Lamps are one of the biggest sellers.) Of course, you'll find furniture, artwork and antiques in all price ranges. Many items are "green," using reclaimed wood and recycled parts.
Watters is a huge champion of the community as well. She loves Cave Creek and invites you to visit her store at 6070 E. Cave Creek Rd. Tues.-Sun. or shop online at valeriesfurniture.com. Call 480-483-3327 for hours and directions.