SEPTEMBER 22, 2010
County Parks offer free camping
PHOENIX – It's back! With more families opting to vacation closer to home this year due to a sluggish economy, the Maricopa County Parks and Recreation Department has decided to bring back the "free camping" campaign. Beginning Friday, Oct. 1, visitors who pay the camping fee for one night at a desert mountain county park will receive the next night of equal value for free.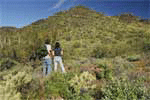 "This is a wonderful opportunity for residents to experience the beauty of their County parks. The parks are located on the outskirts of town and provide access to some of the most breathtaking scenery and views found in the Sonoran desert," stated Chairman Don Stapley, Maricopa County Board of Supervisor, District 2.

"Parks will honor this offer until Wednesday, Nov. 10 and we've asked our interpretive rangers to offer additional nighttime programming opportunities and activities that are fun for the whole family," said R.J. Cardin, Maricopa County Parks and Recreation Director.

Keep reading ...