SEPTEMBER 8, 2010
'Godspell' presented by Pinnacle Presbyterian Church
6:30 p.m. Sunday, Sept. 19
"Godspell" cast members (l-r): Top Row – Judy Durocher, Tanya Rosenfeld, Kira Rugen, Brad Beasley, Emily Powell, Alyssa Coughenour, Justin Laurent, Carly Lenniger, Max Fechtmeyer, Katherine Rosenfeld, Jimmy Beasley, Kevin Prenzno, David McIntyre, Emma Frey, MeKenna Martin; Bottom Row – Sarah Beghin, Paul Avram, Megan McIntyre, Annie Frey, Alyson Mitchell, Rachel Evans, Blake Whittington, Hale Stewart, Cole Henry, Emme Black, Emily Cabrera, Lauren Henry.
SCOTTSDALE – The rock musical "Godspell" has been delighting and inspiring audiences since 1971, when it opened Off-Broadway. It immediately became a Broadway success and long-running Grammy-winning national and international hit. Songs like "Day by Day" which scaled the "Billboard" charts, quickly entered the realm of beloved popular music. Created by John-Michael Tebelak with music and lyrics by "Wicked"'s Stephen Schwartz, "Godspell" is loosely based on the Gospel of Matthew, a mélange of parables in a whimsical variety of musical genres, from rock and folk to gospel and vaudeville. The show is fast-paced; a non-stop, dance-packed production with beautiful solos and a light-hearted spirit that will appeal to all generations.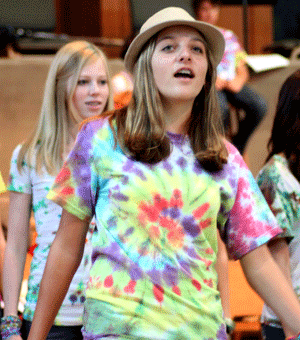 Carly Lenniger sings "Day by Day" (with Sarah Beghin in the background). Carly Lenniger attends Scottsdale Preparatory Academy. Sarah Beghin is a student at Pinnacle High School.
This production's exceptional youth cast from Pinnacle Presbyterian Church is backed by an impressive young band, both led by "Godspell" music director Kira Zeeman Rugen. David McIntyre, an accomplished performer with a background in theater, music and chorus, appears in the role of Jesus. A mainstay of PPC's music program, Justin Laurent, appears in the duo role of John the Baptist and Judas. The cast of 25 is supported by the creative team of Kira Zeeman Rugen; stage director Judy Durocher, assisted by Jeanee Dean; and choreographer Tanya Rosenfeld.

Admission: Tickets are free with donations accepted at the door.

The performance is to be held at Pinnacle Presbyterian Church, 25150 N. Pima Road, Scottsdale (on the NW corner of Pima and Happy Valley roads). For information call 480-303-2474 or visit www.PinnaclePres.org.
About the performers: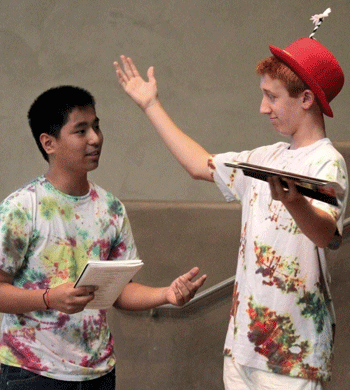 Justin Laurent (l) as Judas pictured with David McIntyre as Jesus. Justin is a student at Sonoran Trails and David attends Scottsdale Christian Academy.

Justin Laurent (John the Baptist) has been a mainstay in PPC's music program since he was a kindergartener, participating in bells, choir, musicals and the Guys' Music Ensemble. Featured roles have included Advisor to the King in Malice in the Palace; Joseph in The Nativity Story; and in Chimes in the Night. Justin has also been active in PPC's Youth Group and attended the St. Olaf College Choir Camp in both 2008 and 2010. In addition to his vocal talent, the eighth grader at Sonoran Trails Middle School has taken piano lessons and is a gifted athlete in soccer and competitive baseball. One day, Justin hopes to play college baseball for the Arizona State University Sun Devils and then become a pro baseball player.

The spotlight has been shining on David McIntyre (Jesus) since he began performing in the music program at Pinnacle Presbyterian Church (PPC) as a first grader. Now a freshman at Scottsdale Christian Academy, David continues to develop his dual talents as an actor and musician. On stage, his more prominent roles have included the chorus of Technicolor Promise; News Boy in Welcome Back, Billy Best; Mordecai in Malice in the Palace; Mr. Brownlow in Oliver; and the Prime Minister in Sleeping Beauty. On the music scene, David is an accomplished pianist and drummer, and recently had the unique opportunity to play percussion with a professional band in Italy for a USO Concert. David has sung in his school choir for three years, and participates in both PPC's Guys' Music Ensemble and Bells Choir.

Courtesy photos by William Lampkin