JUNE 30, 2010
Los Mesquites Taqueria hosts Cowboys for Kids fundraiser
Become a sponsor, volunteer and donate if you can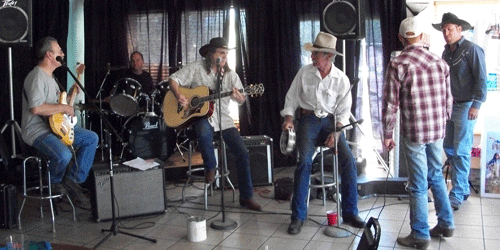 Providing the music for the Cowboys for Kids Music Fest jam session are (from l-r) Tom Neil, Jason Hall, Hatman Dan, Mel Butts, Micah McGarrah and T.R. Hall.
Courtesy photo


CAVE CREEK – If you missed the fundraiser event held at Los Mesquites Taqueria on Saturday, you won't want to miss the next one.

Bill Jung, owner of Los Mesquites Tacqueria, donated a portion of food and beverage proceeds to Cowboys for Kids. He hosted the event and provided the buffet, space for the volunteer musicians to play and for the auction and raffle. Mel Butts was the auctioneer and read cowboys poetry.

Musicians who play individually and from bands gathered for a great Music Fest jam session, including Michael McGarrah, Scott Wullkotte and Jamie Lee Frank (Desert Gold), Jason Hall, Dan the Hatman, Tom Neil (Tom and Jerry), Riley Butts and his girlfriend Jessica and T.R. Hall, Patty Coil, with help from Joyce Butts, planned the event. Heartfelt thanks to these businesses for donations in support of the event: Black Mountain Feed and Tack, Indian Village, Big Bronco, Calamity Jane Salon, Cave Creek Mercantile, Bryan's Barbeque, Hideaway, Western Delights, Pink Cadillac, Cowgirl Designs, Deborah Ortega Traders, Totem Pole, Suzanne's Hot Stuff and Desert Vista Marketing.

So many people helped make the day a success, including Spanky Spangler, who stopped by to sign autographs. We sincerely apologize if we have missed thanking anyone!

Cowboys for Kids, Inc. is a 501(c)(3) tax exempt, charitable, nonprofit U.S. based corporation since 1990. Donations are deductible per IRS guidelines; please check with your tax advisor. They are registered with the Arizona Office of the Secretary of State, located at the State Capitol at 1700 West Washington in Phoenix, Arizona.

CFK Honorary Chairman is Clarence Gilyard, best known for his major roles in the TV shows "Walker, Texas Ranger" and "Matlock." He also appeared in "Top Gun" and other movies. Clarence along with other actors, professional athletes and professional rodeo cowboys join together to participate in support of Cowboys for Kids, Inc.

Cowboys for Kids (CFK) has a group of dedicated people from all walks of life who volunteer their time and talents to the organization's many fund raisers and children's projects such as Family Fall Fest, Santa's Helper Program (a huge toy drive effort), Pumpkin People project, Stick Horse Races, Auction, Bull Riding, Sheep & Steer Riding, Rodeo (funds have not allowed a rodeo to be held recently), Youth Scholarships, fun trips to special events and more.

Nearly 100 percent of all funds raised go directly to projects.

The dedication of supporters has allowed them to donate more than $95,000 in monetary funds to Phoenix area children. The amount is higher when you include services rendered and non-cash donations such as clothes, food, toys, etc.

Their motto is "Working Together — Making a Difference." Cowboys for Kids, Inc. raises funds for disadvantaged children, handicapped children, children suffering from illness and all children in need. They strive to give children and their families a chance to build a positive future for themselves and others.

There are many ways to get involved with Cowboys for Kids: as a volunteer, a sponsor, a rodeo participant, or by donating to the auction. Whichever way you choose to be involved, you will be helping them help others. E-mail CowboysForKids@aol.com if you'd like to volunteer.

You are invited to become a Cowboys for Kids sponsor. With your help, they can continue their good work in the community.

Cowboys for Kids appreciates any help you can provide. If you wish to donate by mail please send your check to Cowboys for Kids, Inc., 47811 N 41st Ave. Phoenix, AZ 85087