JUNE 16, 2010
There's trouble in River City
PVCC Division of Fine Arts presents 'The Music Man' on stage June 17-27
Fast-talking traveling salesman Harold Hill artfully cons the folks of River City, Iowa, in Paradise Valley Community College's theater presentation of Meredith Wilson's "The Music Man" June 17-27 in the Center for Performing Arts.

Evening performances begin at 7:30 p.m. June 17-19 and 24-26. Matinee performances are at 2 p.m. June 19-20 and 26-27. Tickets cost $15 General Admission; $12 Seniors/Staff; $10 Students; $8 Children.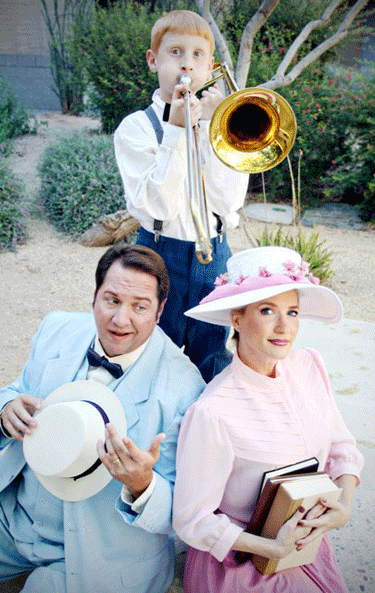 "The Music Man" follows Hill as he charms the townspeople into buying instruments and uniforms for a boys' band he vows to organize – despite the fact he doesn't know a trombone from a treble clef. His plans to skip town with the cash are foiled when he falls for Marian the librarian, who transforms him into a respectable citizen by curtain's fall.

Theater faculty Mark Stoddard directs PVCC's stage production with musical direction by music faculty Dan Kurek. Mark Kleinman plays the swindling Harold Hill; Kim Cooper is the virtuous librarian Marian, and Adam Shay portrays her shy, lisping nephew Walthrop.

To purchase tickets, call the PVCC Center for Performing Arts Box Office at 602-787-7738 or visit paradisevalley.edu/cpa. The Center for the Performing Arts at PVCC, a Maricopa Community College, is located at 34th Street and Union Hills, just west of the Union Hills exit off SR-51.

Photo by Anastasia Campos: Mark Kleinman (Harold Hill), Adam Shay (Walthrop), Kim Cooper (Marian) star in "The Music Man."