BY MARIELLE D. MARNE | JUNE 9, 2010
Discount rescue card and bargains galore at For Goodness Sake Thrift Store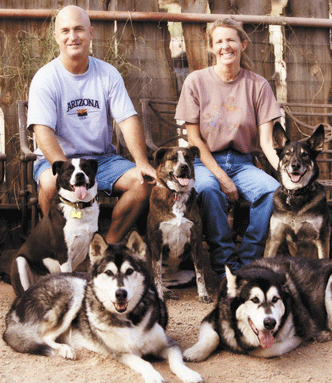 For Goodness Sake Thrift Store owners, Chris and Paty Williams.
Photo by Marielle Marne
CAVE CREEK – Looking to stretch your paycheck and do a good deed? At For Goodness Sake Thrift Shop, consumers and animal lovers can do both! For those who haven't found For Goodness Sake, for goodness sake, you need to stop by. They will have been open a year in August!

The thrift store not only carries a wide array of goodies, but it benefits local animal rescues. Some of the offerings include men's and women's clothing (lots of name brands), collectibles, antiques, fashion accessories and furniture. The inventory changes constantly so stop by often. Along with your savings, your dollars help displaced or homeless animals in the care of HALO, Foothills Animal Rescue, Luv Shack and AERO (for horses), the Fetch Foundation and others.

For Goodness Sake's owners, Paty and Chris Williams, admit it's all about the animals. Net proceeds are donated to the rescues, Paty has a wealth of contacts and is more than willing to offer her thoughts should customers need animal advice and there's usually a canine ambassador to greet shoppers. She also does what she can to place pets needing homes.
"We are a networking hub," she offered.

To keep things interesting, in addition to the dynamic merchandise, there's always some sort of special. One of the best bargains is the rack(s) of $1 clothing! Paty does half price sales each month, too. Check them out on Facebook.

One of their newest endeavors is a discount rescue card. Think entertainment coupon book without the bulky book! For a $25 donation, with a generous portion going to rescues, card holders are entitled to a year of discounts at not only national chains but area restaurants, hotels, eateries and more – for instance, the Cave Creek Museum, Villas of Cave Creek, and Carefree Resort. Plus, Paty wants to add more animal related savings for grooming, feed stores and vets. If interested in taking part, contact her.

Visit togetherwerescue.org, so we can all make a difference for our furry or feathered friends. Whether it's shopping at (or donating to) For Goodness Sake Thrift Store, purchasing a Rescue Card for yourself or friends (rescues can be part of this fundraising effort for themselves as well), being a merchant or business to offer a discount as part of the Rescue Card, or simply fostering or adopting a companion animal (see www.readyforalovinghome.com), anyone can help. Everyone SHOULD help!

The optimal way to find out how to get involved is to stop in For Goodness Sake at 6051 E. Hidden Valley Dr. in Cave Creek, Thursday – Saturday from 10 a.m. – 4 p.m. Other times, call 480-575-6760 or visit www.FGSAZ.com.