BY MARIELLE MARNE | MAY 26, 2010
Ari Sushi will hook you with stellar service and fantastic food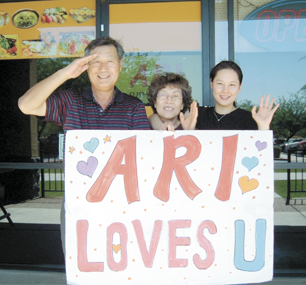 Ari, Jung and Mia Kim stand in front of Ari Sushi & Grill with the now ubiquitous sign Ari holds at the intersection of Cave Creek and Tatum.
Photo by Marielle Marne

CAVE CREEK – You can't help but smile when you pass Ari Kim on the corner of Cave Creek Rd. and Tatum Blvd. His sign is a little curious, but it captures commuters' attention. "What's that all about?" they ask themselves. Or they ask Ari when stopped for a red light.
In addition to the feel-good factor, Ari is promoting Ari Sushi & Grill. The Japanese restaurant has been open since October, and given that it's set back from Cave Creek Rd. and not at all visible from Tatum, he wants to put the eatery more in the public eye. When people do come in, they leave all smiles as well.

One of the coziest aspects of Ari Sushi is that it's family owned and operated. Along with Ari, who primarily does the grilling, is his wife, Jung, who cooks, and his daughter, Mia, who will most likely greet you at the door.

Ari explained that in Korea, he worked at a big, big company. While that had its benefits, he wanted to do something on a smaller scale and still take care of his family. Ari Sushi & Grill fits the bill.

Ari is the patriarch's nickname, but as Mia pointed out, it's also the starting letters of Arizona, which they've called home for five years now.

The Kims can't offer enough praise for their chef. He loves to experiment and come up with new flavors. "The same flavors become boring after a while," Ari explained. He added that, of course, he's willing to tweak any dishes to a diner's taste as well. It may sound cliché, but customers really are treated like family.

As for the menu, there's everything from Miso soup to Unagi rolls (freshwater eel) to various Yaki Soba (stir fried noodles). Ingredients are fresh and flavorful! There's a weekly special not found on the menu, so be sure to check that out. Their salsa and ginger dressing are homemade, too.

Looking for libations? Ari Sushi & Grill serves beer and wine. Be sure to try one of the Japanese brands - Asahi, Kirin or Sapporo. As to plum wine, sample Hakutsura sake. It goes well with any entree.

The restaurant is open Monday through Saturday for lunch and dinner. (Closed between 2:30 and 4:30 to set up for dinner.) Weekends, particularly Friday nights, tend to be the busiest times, so for more leisurely dining, try weekdays. Table and bar seating are available, or one can opt for take-out.

The whole Kim family is proud of their food and flavors and Ari goes as far as to promise, "I will guaranty the taste and the price!" There's excellent value to their entrees which are generously portioned. For a variety, try an "Ari Bento," a combo box starting at $8.95. It has a little of everything! Filling and yummy!

Stop in Ari Sushi & Grill at 29605 N. Cave Creek Rd., Ste. 101 (in Tatum Ranch) and welcome Ari and his family to the neighborhood. To order take-out or discuss having Ari Sushi cater your next event, phone 480-585-9709.