Linda Garvin's grand finale!
By Pete Mohr | May 19, 2010

In October of 2006 Linda Garvin pointedly emphasized, "There are a lot of talented kids at Cactus Shadows." Many of those "talented kids" were exuberantly on-stage at the Fine Arts Center, Friday evening, May 14, their year-end cabaret a fitting – and affectionate – goodbye to drama teacher-theater director Linda Garvin, who is retiring Friday, May 21. She and husband Bill will depart immediately thereafter for their new residential "stage" in St. Croix, Virgin Islands (U.S.).

Linda Garvin is ending a 41-year teaching career. For the last 22 of those 41 years, Cactus Shadows has been blessed with her love for, and dedication to, the performing arts. Her lifelong commitment becoming the invaluable foundation of the drama-theater program for which, from its inception, she has been the energizing architect – and every other function that was needed!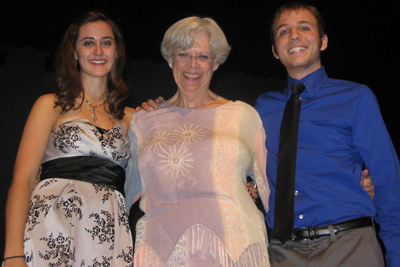 To the beyond-enthusiastic response from her students, Garvin announced Andrew Cupo, CSHS '05, NAU '09 will be taking over the drama/theater reins. Cupo was her on-the-job-training assistant this past semester.
Picture here with Garvin (c.) is the new Drama Club – The Shadowbox Players – president, rising senior Brittany Svoboda (l.) and Cupo (r.)

In her farewell remarks, she encouraged her students, "Whatever you may attempt in your life, keep doing it with the same passion you've given here."

Here's wishing the best of everything to Linda and Bill!