The Cactus Shadows Shadowbox Players present Spring Cabaret and Awards Night
May 12, 2010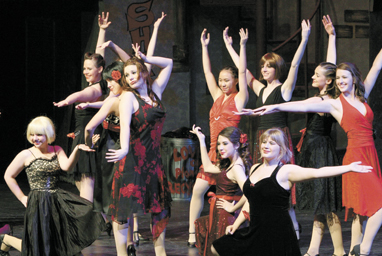 Come and join the celebration! The Cactus Shadows Theater Department is presenting a "Spring Cabaret" on Friday, May 14, at the Cactus Shadows Fine Arts Center. The cabaret will feature an entire evening of entertainment, including singing, dancing, instrumental music, as well as presentation of the Shadowbox Players end of the year awards.

Additionally, there will be a tribute to the 20th Anniversary of the Fine Arts Center and Shadowbox Players director and founder, Linda Garvin, who is retiring at the end of this year.

Curtain is at 7 p.m. Admission is free. For "Spring Cabaret" details, please contact Linda Garvin at 480-575-2464. The Cactus Shadows Fine Arts Center is located at 33606 N. 60th Street, 33606 N. 60th St. Scottsdale 85262, one half mile south of Carefree Highway.

While this performance marks the end of the season for the Shadowbox Players, the Cactus Shadows Fine Arts Center has shows and performing arts opportunities throughout the summer. For information on theater summer programs at the Fine Arts Center, please call 480-575-2440.